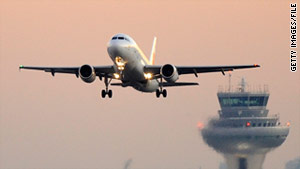 Low-cost airlines often step in when an airport's hub airline disappears.
STORY HIGHLIGHTS
Airlines have been cutting hubs left and right, impacting smaller cities
Delta recently decided to slash 25% of flights in Memphis, Tennessee
You can drive to nearby airports to get more frequent flights for less money
Editor's note: Brett Snyder writes a weekly CNN.com travel column. Snyder is the founder of air travel assistance site Cranky Concierge and he writes the consumer air travel blog The Cranky Flier.
(CNN) -- If you live in a small to mid-size city, you've probably seen your airline choices shrink over the last few years.
Airlines have been cutting hubs left and right, and that has had a bigger impact on the smaller cities out there.
Delta's recent decision to slash 25% of its flights in Memphis, Tennessee, means one more hub is on its way out. What does that mean to you?
If you live in a big city, then you don't worry about connecting hubs for the most part. You generally have the option to fly nonstop if you want -- because enough people want to go to the same place, airlines can dedicate a flight to go exactly where you want to go.
But once you get beyond the big cities, things start going downhill quickly.
Look at cities like Pittsburgh. That airport used to be one of the most important hubs in the US Airways system. It boasted nonstop service to Europe and hundreds of daily flights fanning out across the country. Now, it's down to about 165 flights a day to 37 airports across all airlines.
Getting bumped gets more lucrative
This is a familiar story at former hubs across the United States.
San Jose, California; Las Vegas; St. Louis; Columbus, Ohio; Nashville; Raleigh/Durham, North Carolina; and Baltimore all had hubs in the last 20 years only to have them closed.
Cincinnati has seen drastic reductions from Delta in the last couple of years, and many speculate that Cleveland will see a similar fate as United and Continental continue to integrate.
People in those cities have fewer options, but so do those people who used to connect over those cities.
In some places, like Baltimore and St. Louis, the disappearance of the hub airline has resulted in Southwest Airlines and other low-cost airlines stepping in. This means that flying to other good-sized airports is possible, but flights to smaller cities disappear.
Take a look at Delta's most recent moves in Memphis.
Are flights to Los Angeles and New York disappearing? Of course not. But flights to Columbus, Mississippi; Lexington, Kentucky; Lafayette, Louisiana; and Moline, Illinois, will go. Other small cities will see service reduced by one or two flights per day.
People in those small cities will have a couple options.
First, you can just deal with the flights you have left and adjust your schedules (and your budget) accordingly.
Second, you can drive to nearby airports to get more frequent flights for less money. If you're in Lexington, try driving 75 miles up the road to Louisville. Lafayette? That's 60 miles to Baton Rouge.
For mid-size cities, there are still opportunities to find lower fares. As Southwest has run out of growth plans in big ways in the United States., it has started looking smaller.
Its two most recent cities, Greenville/Spartanburg and Charleston, South Carolina, are some of the smallest in its network. And the acquisition of AirTran's fleet of smaller 717 airplanes means it will have the tools to get into the mid-sized arenas. Frontier has successfully gone into some of these markets as well.
But smaller cities face a tougher future.
Airlines like Allegiant have found a way to successfully connect small cities with big leisure destinations like Las Vegas and Florida, but you can't connect beyond those airports to go elsewhere.
Other low-cost carrier models haven't successfully been able to serve small cities, so you'll generally have the option of a few pricey flights from your hometown or you'll need to get used to hopping in that car.
FOLLOW THIS TOPIC