STORY HIGHLIGHTS
Overwater bungalows are iconic, thatch-roofed symbols of a tropical paradise
There are more than 90 overwater hut resorts, but most are in the Maldives
"For everyone, they've come to typify romance," travel agent says
(CNN) -- The room service arrived in a canoe and exotic fish frolicked just beneath the floor when Gary Leff spent his honeymoon in Bora Bora.
Life is good when you're in one of the most beautiful places on Earth, and even better when you're staying in an overwater bungalow -- that iconic, stilted, thatch-roofed symbol of a tropical paradise.
"It's unique because there's a million beachfront resorts in the world ... but it's much less common to have your room actually be [over] the water," Leff said.
"There's something neat to the story about climbing off your deck into the water, snorkeling right off your deck."
You'll probably have to travel far and open your wallet wide to stay at one of these exotic villas.
There are more than 90 overwater bungalow resorts in the world, but about two-thirds of them are in the Maldives, according to OverwaterBungalows.net, a website that tracks the properties.
The Caribbean has a few such resorts, but it doesn't really lend itself to overwater construction because of hurricanes, said Terry McCabe, national director of leisure for Altour.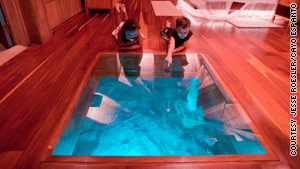 Many overwater bungalows, like this one in Cayo Espanto, Belize, feature glass panes in the floor.
The peaceful, shallow lagoons of French Polynesia and the Maldives, on the other hand, offer more hospitable surroundings.
Most overwater bungalows come with "Tahitian television," or glass panes built into the floor through which you can observe the sea life below, McCabe said.
"For everyone, they've come to typify romance, the allure of the South Pacific," McCabe said.
Here are five overwater bungalow resorts to remember.
Bora Bora Nui Resort & Spa, Bora Bora
The resort, on Motu Toopua in the lagoon of Bora Bora, has dozens of overwater bungalows, including the only two-story overwater villas in French Polynesia, said Kleon Howe of The Art of Travel in San Diego, an agency that specializes in the region.
Leff, who honeymooned here in 2005, said he enjoyed the privacy the huts provided.
"It's almost like you're alone in the world," he said. "Even when the resort had plenty of people there, you rarely saw people because they stayed in their bungalows."
The resort is also one of the best values for redeeming Hilton HHonors points, said Leff, who shares strategies for making the most of traveler loyalty programs on his website, View From the Wing.
Need another reason to go? Bora Bora Nui was among the winners of TripAdvisor's 2011 Travelers' Choice awards -- chosen by the site's members as one of the top 10 hotels for romance in the South Pacific.
A king overwater deluxe villa goes for about $1,170 a night during the summer with an advance purchase .
For more information, click here.
Te Tiare Beach Resort, Huahine
About 30 minutes by plane from Tahiti, the two islands of Huahine -- billed as "one of Polynesia's best-kept secrets" by Tahiti Tourism -- are home to archaeological sites, vanilla plantations and mango, banana and papaya groves.
You'll also find the Te Tiare Beach Resort, where visitors can stay in various types of huts, including deep overwater bungalows.
"There are only 11 of these, and all have stunning views of the lagoon and reef," Howe said. "The resort is only accessible by water, which lends a remote and very romantic feel."
All of the bungalows face west, so expect to end your days with spectacular sunsets.
The deep overwater bungalows go for about $830 a night during high season (from June to October) and about $720 for the rest of the year.
For more information, click here.
Constance Moofushi Resort, Maldives
Choose from dozens of water villas on the spectacular South Ari Atoll, which is home to a number of world-class dive sites.
You'll reach the resort by seaplane after arriving in Maldives International Airport and relax in bungalows with gorgeous views of the Indian Ocean.
There's lots to do if you want to leave your hut, including scuba diving, snorkeling, night fishing and other activities.
For an extra fee, the resort also offers a "Robinson Crusoe" experience for couples, allowing them to spend a half-day or a full day on a deserted island.
Rates for the all-inclusive package, which includes meals, drinks and other amenities, start at $705 per night for single occupancy in the water villas. They jump to $1,700 per night during the holidays.
For more information, click here.
Four Seasons Bora Bora
The resort's 100 overwater bungalows sit on stilts over a turquoise lagoon and feature traditional teak wood furnishings and roofs thatched with pandanus leaves.
You can choose various views, but Howe recommended splurging for the Otemanu-view overwater bungalow with a private plunge pool.
"These are right out at the end of the pontoon and have great views of the main peak of [Mount] Otemanu on the main island of Bora Bora," Howe said.
This type of bungalow goes for about $2,700 a night.
The Four Seasons Bora Bora was among the winners of TripAdvisor's 2011 Travelers' Choice awards -- chosen by the site's members as one of the top 10 hotels for romance and luxury in the South Pacific.
For more information, click here.
Cayo Espanto, Belize
As mentioned, you won't find a lot of overwater bungalows near the United States, but this five-star resort on a private island in the Western Caribbean is one option closer to home: It's less than two hours by plane from Miami and Houston.
"That's a lovely property," McCabe said. "It's a very private, very upscale resort."
There are seven villas on the island, including one overwater bungalow. You'll find the one-bedroom Casa Ventanas at the end of a dock that stretches more than 150 feet off the island "for the ultimate in privacy," the resort says.
Like many of its counterparts in French Polynesia and the Maldives, the bungalow has a glass panel in the floor so guests can gaze down at the sea life during their stay.
Casa Ventanas is yours for $1,295 per night, which includes meals, drinks and personal butler service. (Prices rise for the holiday season.)
For more information, click here
FOLLOW THIS TOPIC