Air traffic controllers try to take control of tarnished image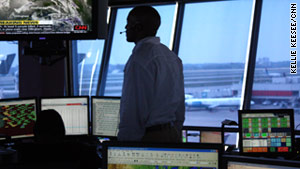 The union expects to buy some advertising time to air the message that controllers are working hard.
STORY HIGHLIGHTS
Video highlights professionalism, seriousness
Controllers unhappy with negative publicity due to several caught sleeping
Washington (CNN) -- Stung by stories of air traffic controllers asleep at the scope, the union representing FAA controllers has released a video in an effort to restore the image of controllers as icons of coolness and professionalism.
"You don't know my name, and you don't know my face. But you recognize the work that I do each and every day," controller "Steve" says, to the triumphant strains of "Fanfare for the Common Man." "I have to be 100% -- 100% of the time," he says.
The video, featuring real air traffic controllers, is a direct response to the negative publicity surrounding a string of incidents in which controllers fell asleep on the job, said Doug Church, spokesman for the National Air Traffic Controllers Association. Church said rank-and-file controllers were both upset with those controllers who performed unprofessionally and with critics who tarred their occupation, and they were upset by the publicity, he said.
"This is not the impression that they want the public to have about who they are and what they do for a living," he said.
NATCA wants to "reassure the public that, look, this is the work force that you entrusted us to be," Church said.
Damage control began several weeks ago when FAA Administrator Randy Babbitt and NATCA President Paul Rinaldi launched a cross-country tour of FAA facilities to address employees, condemning negligent behavior and propping up the dispirited troops. During that tour's initial stop outside Atlanta, Rinaldi twice lamented that controllers had become the butt of jokes by late night comics.
Church said NATCA expects to buy some advertising time to air the message, although it has not yet done so. For now, the video can be viewed on YouTube here.
FOLLOW THIS TOPIC