STORY HIGHLIGHTS
Angie Taggart had been dreaming of competing in the Iditarod for a decade
This year, she fulfilled her dream and took CNN along for the ride
Taggart wore an HD camera that recorded her ultimate travel adventure
Watch the journey in the four-part video series attached to this story
(CNN) -- All alone, save for a pack of faithful dogs pulling her sled through the cold, wild majesty of Alaska's interior, Angie Taggart was on the lookout for danger.
She wasn't worried about bears; it was March, and they were still hibernating as she raced to finish the Iditarod.
Wolves wouldn't bother her, either; they generally don't pick fights with humans surrounded by strong, athletic canines.
Moose, on the other hand, could be a problem.
"They don't like to move off the trail, so they will trample your team because they think it's a pack of wolves," Taggart said.
Not a good scenario to ponder in the middle of the Alaskan wilderness with temperatures dipping to 30 degrees below zero. But the possibility of angry moose aside, Taggart was right where she wanted to be.
For 10 years, she had been dreaming of competing in the Iditarod, the legendary dog sled race that starts in Anchorage and ends 1,150 miles later in the city of Nome, just south of the Arctic Circle. (Official motto: "There is no place like Nome!")
Watch the four-part video series of her journey here, starting with the first installment at the top of this story.

Part 2: Facing Iditarod's scariest terrain

Part 3: Dogs slip on icy Iditarod trail

Part 4: Iditarod rookie takes wrong turn
Taggart, a second-grade teacher who has lived in Alaska since she was 5, got hooked on the race after she traveled to Nome to see the finish line in 2001. She was so impressed that she volunteered to become a dog handler for one of the mushers.
This spring, after a decade of experience with Alaskan huskies and dog sled racing, Taggart finally entered the Iditarod herself for the first time.
At the request of CNN, she took along a GoPro Hero wearable HD camera to record her experiences as she fulfilled her ultimate travel adventure. Taggart wore the gadget on her head, so viewers see what the musher sees -- the first time the Iditarod has been filmed from this perspective.
Taggart started out with 16 dogs but withdrew six of them along the way because of fatigue or other problems.
She completed the race in 13 days, 1 hour, 49 minutes and 24 seconds, placing 43rd out of the 47 people who made it all the way to Nome. (Fifteen competitors did not finish.)
See a map of the Iditarod trail
"It was the most amazing thing I've ever done and the hardest thing I've ever done in life," Taggart said. "It was way better than I expected."
Taggart, 36, recently spoke with CNN about her experiences. The following is an edited version of that interview. Watch the four-part video series here, starting with the first installment at the top of this story.
CNN: How did you train for the Iditarod?
Taggart: It's just like training for a marathon for a person. You're just building up (the dogs') endurance.
They pull four-wheelers when we don't have any snow, and so we start off with 10 miles, and then we bump it up to 15 miles and then 20 miles, and then as soon as we got on the sleds, you stay at 20 miles for a little bit, maybe a week, until they kind of get used to that mileage.
CNN: How much money did you spend on this?
Taggart: It was pretty expensive for me because I had to basically start from scratch. I didn't have anything. So I had to buy the dogs, which was about $8,000 total.
A sled was $2,000, and then you have the dog food; just the food alone was $15,000. They're eating all sorts of stuff, not just commercial dog food.
CNN: How did you handle that financial burden?
Taggart: I did a lot of fundraising before I started. I raised about $60,000 before I did this. I had tons of support. I still can't even comprehend how many people helped me, not only financially but mentally and physically.
CNN: What were the weather conditions for the race?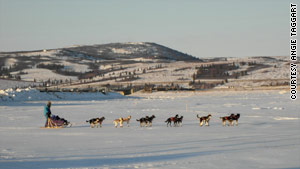 Taggart and her team of dogs move across the ice just after leaving the checkpoint of Unalakleet.
Taggart: This was an awesome year. It was probably by far the best year they've ever seen in Iditarod's history.
I think the coldest that I saw was 30 degrees below. We had been training in 40 below ... and just from following it year after year, I know (others had experienced) 60 below.
CNN: During a typical day in the race, how long would you run?
Taggart: We usually probably ran 12 to 16 hours a day, just depending on our run schedule. But we wouldn't run straight, so we might run six hours, rest six hours and then run another six hours, rest six hours. Just depending on how the dogs were looking.
CNN: Where do you sleep?
Taggart: You can choose to stay at a checkpoint, and a lot of times they have a school floor or a church floor or a community center floor. Some of these places are ghost towns, so nobody lives there, and it's just a wall tent.
I only had to sleep out one night. I slept out with the dogs for a few hours, but most of the time I ran from checkpoint to checkpoint.
CNN: That one time you spent the night in the open, what was that like?
Taggart: You just lay down with the dogs; you usually take straw with you from a checkpoint so you can put straw down for the dogs.
Then when you get to a place, you throw down some straw so the dogs can be off the ice and snow a little bit. And then you just usually cuddle up with the guys, just lay next to a dog. Do I sleep when I do that? Not really.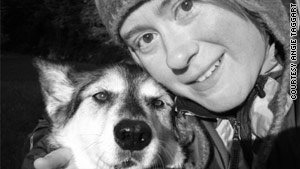 Taggart and one of her furry teammates.
CNN: What happens at the checkpoints?
Taggart: You check in, tell them if you want to stay. You go to your parking spot, and the first thing I do is, I go down and I put straw out for the dogs. I put it down so they can start bedding down.
I check their feet, make sure they don't have sores or splits in their feet, check their wrists and their ankles, move them around to see if they're sore. So you kind of go through the team with a fine-toothed comb.
At every checkpoint, veterinarians have to come and check your dogs over.
Then you let the dogs relax on the straw, and you start preparing their food.
At a checkpoint, usually, I have to give them (the antacid) Prilosec to combat stomach ulcers, because it's very common for those dogs to get stomach ulcers.
CNN: Some people call the race dog abuse. What's your take?
Taggart: If you've never seen a team out there running, you don't understand how much these dogs love to run.
There's no abuse going on at all. We take very good care of the dogs. There are vets at every checkpoint. They won't let you take a dog if they feel the dog is in jeopardy, whether it's injured, doesn't feel good or is too tired. You see big teams that drop out because they feel their dogs are not fit enough to go on. People love their dogs.
CNN: Was there a part of the race you found particularly beautiful?
Taggart: I loved going through the Gorge. Rainy Pass, which is above the Gorge, was just spectacular.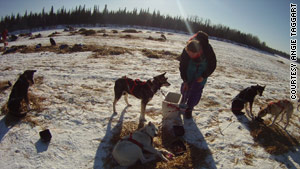 Taggart feeds her dogs at the checkpoint of Rainy Pass.
You just felt like a dot: It was these massive mountains on either side of you, and you just felt so insignificant, just like a little flea just going along in this huge area.
It was just brilliant, the landscape was beautiful, snow everywhere, beautiful white, and the sky was a beautiful blue. It was a magnificent day, I guess it all just came together.
We saw the Northern Lights on two nights, and they were just dancing all over the sky. It was just awesome.
CNN: Did you discover any new facets of Alaska doing this?
Taggart: I've always known that Alaska is such a big open area, and it's just full of so much beauty. But it was really awesome to be able to see more of that.
I've almost been to every part of Alaska, so the interior was a big area that I still needed to go through. It's just a magnificent state, and I still have a few places I need to go in the state, but there's been a lot that's been covered, and this race really helped with that.
CNN: Any lessons learned from this adventure?
Taggart: I learned about reading a dog, understanding what kinds of things they can do. They far exceeded what I thought they could do, these dogs are amazing.
It's just a phenomenal experience.
FOLLOW THIS TOPIC