STORY HIGHLIGHTS
Ice cream dairies, factories and creameries across the nation offer summer tours
Boulder Ice Cream offers organic ice cream and natural products
Find other tours in Iowa, Vermont, North Carolina and California
Most tours also include stopping by the resident ice cream parlor on site
(CNN) -- With hot summer days ahead, what better way to treat yourself than enjoying a childhood indulgence: ice cream. From decadently sweet to decidedly sinful, the flavors are endless, and a good ice cream shop is never too far away.
This summer, try an ice cream tour. From well-known brands to bucolic family farms, tours of ice cream dairies and factories are just waiting to be explored.
Hansen Dairy -- Hudson, Iowa
Owned and operated by the Hansen family since 1861, the Farm Fresh Dairy offers guests a hands-on tour of the working farm and dairy.
In addition to the usual farm sights, from baby calves to milking parlors to cow barns, guests can also see the creamery, the Hansen farm equipment and even domesticated wallabies that live on the farm. The dish of ice cream you receive at the end is made right there.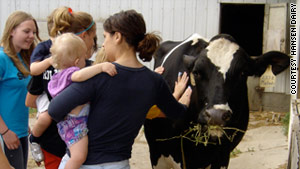 Visitors to Hansen's Farm Fresh Dairy in Hudson, Iowa, can see animals during a hands-on tour.
You can request for the tour to be hands-on, meaning in addition to the regular activities, you can also feed a calf, milk a cow by hand, make homemade butter and pet a wallaby.
Tours are available Monday through Saturday all year long, but visitors are encouraged to come late March to early November. The walk-through tour is $6, the hands-on experience is $10. Be sure to make an appointment.
If the complimentary ice cream isn't enough, you can also visit Moo Roo in Waterloo, just nine miles up the road. That's Hansen's retail store, which includes their complete dairy line, ice cream, soft-serve, ice cream pies and cakes and their Moo Roo signature chocolate cake roll with ice cream.
Ben & Jerry's -- Waterbury, Vermont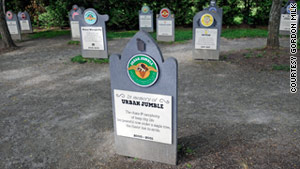 The Flavor Graveyard at Ben & Jerry's is a popular attraction for visitors.
Serving up creative scoops since 1978, Ben & Jerry's is still a beloved American ice cream institution. Their popular tour takes groups of 40 visitors on 30-minute guided trips through their famed Waterbury Factory.
It begins in the Cow Over the Moon theater with a company history movie about founders Ben Cohen and Jerry Greenfield. Venture on to a glassed-in mezzanine overlooking the ice cream production room and learn about the manufacturing process. A tour wouldn't be complete without a trip to the Flavoroom to sample the flavor of the day.
During the summer, optional outdoor activities include visiting cows in the pasture, picnicking and visiting the Flavor Graveyard to mourn the loss of concoctions past. Also, don't forget to visit the full-service scoop shop for your new favorite flavor.
Visit their website for seasonal hours. Ticket prices are kid friendly -- ages 12 and younger are free admission, $3 for adults and $2 for senior citizens.
Boulder Ice Cream -- Boulder, Colorado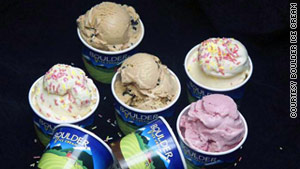 Boulder Ice Cream offers up organic flavors.
For the health-conscious ice cream indulger, Boulder offers organic cool treats that are 100% natural, meaning no ingredient name has "more than three syllables."
Located five minutes from downtown Boulder, the factory offers tours every Friday and Saturday. Visitors can learn how ice cream is made, enjoy a free ice cream tasting and wrap things up in the "Colorado Natural Products" gift shop.
Popular flavors of their organic ice cream include Island Coconut, Mexican Chocolate and Green Tea.
The tour is free, but it's by appointment only, so be sure to call ahead.
Homeland Creamery -- Julian, North Carolina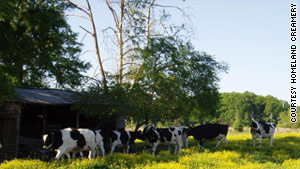 Homeland Dairy offers a hayride overview of the farm to begin the tour.
A genuine farm tour, this 90-minute excursion begins by giving visitors a hayride view of the farm, from crops in the field to cows in the pasture. Watching baby cows being bottle-fed is a special treat.
Other experiences include getting to milk a "simulated" cow and walking through the milk parlor. Owner/operators Chris, Jayne, David and Terry Bowman aim to enlighten guests about how milk products go from cow to the consumer.
Of course, the tour ends with a sample from their own creamery-made ice cream.
While no weekend tours are available, the farm is open Monday through Friday, with tours beginning at 10 a.m. Admission is $6 a person, ages 2 and older.
Hilmar Cheese Company -- Hilmar, California
Visitors to Hilmar Cheese Company can enjoy ice cream while they tour the factory.
Don't be fooled by the name -- this cheese company, founded in 1984, also has cool creamy treats on the premises.
While the Hilmar guided tour mainly highlights the cheese-making process, an impressive all-inclusive experience, visitors can request the Family Fun Ice Cream Activity as well.
After the tour, you can create and eat your own ice cream. Basic ingredients for vanilla ice cream are put in "magic jars." If you follow directions and shake properly, the "magic" happens.
"It's really fun," said Denise Skidmore, director of education and public relations at Hilmar. "If you end up with a milkshake, obviously you've done something wrong. This experience is all about learning the old-fashioned process."
The tour is free, but the activity is $3. Summer tours are Monday through Friday at 11 a.m., beginning June 6 and going through August 26.
FOLLOW THIS TOPIC