FAA announces review panel, management shuffle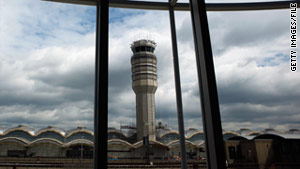 Three air traffic controllers have been fired for sleeping on the job.
STORY HIGHLIGHTS
The FAA shuffles key management jobs amid controllers controversy
It names four members to a review panel that will evaluate training programs
The panel will submit a report to FAA Administrator Randy Babbitt this fall
The controversy includes more than a half-dozen alleged sleeping or inattentive controllers
Washington (CNN) -- The Federal Aviation Administration announced Friday that it had shuffled some key management jobs as it continues its review of the controversy over sleeping and inattentive controllers.
It also named four members to a review panel that will evaluate the FAA's controller training programs to make sure new controllers are properly prepared. The panel will submit a report to FAA Administrator Randy Babbitt this fall.
"We are continuing to do everything in our power to ensure that our nation's aviation system remains the safest in the world," Transportation Secretary Ray LaHood said in a statement. He called the changes "just the beginning of the process."
The controversy, which grew in recent weeks to include more than a half-dozen alleged sleeping or inattentive controllers, had already claimed a top FAA official, Henry "Hank" Krakowski, who resigned his post as head of the FAA's Air Traffic Organization.
It has also fired three air traffic controllers in Miami, Knoxville, Tennessee, and Seattle who were found to have slept on the job, and is continuing its review of other controllers.

Air traffic control: 1950s technology

GPS technology making air traffic safer
In the changes announced Friday, the FAA said it is repositioning three veteran FAA managers to critical roles.
Walt Cochran will oversee terminal operations, where he will be responsible for FAA airport towers and regional radar facilities.
Chris Metts will oversee all of the FAA's "en route" and oceanic operations. Glen Martin will become air traffic manager at the Cleveland Air Route Traffic Control Center.
The FAA said it also is assessing key mid-level management positions "to ensure that both technical and leadership expectations are being met."
The members of the independent review panel are: Michael Barr, University of Southern California Aviation, Safety & Security program; Tim Brady, Embry Riddle Aeronautical University; Garth Koleszar, National Air Traffic Controllers Association; Michael New, United Airlines; and Julia Pounds, FAA.
Earlier this month, the FAA changed work schedules to allow controllers more time off between shifts, and Babbitt and controller union president Paul Rinaldi toured facilities to send a message to controllers about job expectations.
The FAA said it and union teams have so far visited facilities in and around 20 major U.S. cities, including Atlanta, Boston, Chicago, Dallas-Ft. Worth, Miami, Minneapolis, New York, Sacramento and Salt Lake City.
"The FAA's focus is safety. These changes ensure that we have the right people in the right places to help us carry out our mission," Babbitt said in a statement Friday. "I am confident our top-to-bottom review is making our air traffic system even safer."
FOLLOW THIS TOPIC


Part of complete coverage on

The FAA plans to replace its current radar tracking system by 2020 with a more accurate GPS-based network.

It's no surprise that a half-dozen air traffic control specialists were recently caught sleeping on the job.

Air traffic controller fatigue has been attributed as a factor over the years in a number of accidents, including near misses and runway collisions.

Air traffic controllers are facing a slew of new rules aimed at preventing them from falling asleep while on duty.

Former air traffic controllers say sleeping on the job is nothing new. Their schedules may shock you.

A program that puts air traffic controllers in the cockpit to become familiar with pilots' workloads and responsibilities is being resurrected.

Night shift workers say they struggle to stay awake no matter how many years they've done it.


Most popular stories right now