STORY HIGHLIGHTS
Expert: Controllers usually use "paper, an eyeball and a pencil" to track planes on the tarmac
GPS cockpit maps may have warned pilots about impending JFK collision, says expert
"NextGen" air traffic overhaul aims to help pilots and controllers during landings
New technology not designed to replace air traffic controllers
(CNN) -- New technology to modernize America's aging air traffic system promises to help air traffic controllers and may have prevented a recent tarmac collision between two aircraft at a New York airport, say experts.
As part of its "NextGen" plan to overhaul traffic management, the FAA plans to replace its current radar tracking system by 2020 with a more accurate GPS-based network.
With the new technology, pilots and controllers can see surrounding aircraft in real time -- without the 10-second delay that comes with the half-century old radar technology.
What's going on with air traffic controllers?
GPS-based tracking displays certainly would have had a role to play in preventing the April 11 collision on the tarmac at New York's John F. Kennedy International Airport, said Bill Voss, former FAA air traffic development director and current president of the Flight Safety Foundation.
The incident occurred when a taxiing Air France Airbus A380, widely regarded as the largest commercial airliner, collided with a much smaller Comair Bombardier CRJ-700 regional jet, which was parked.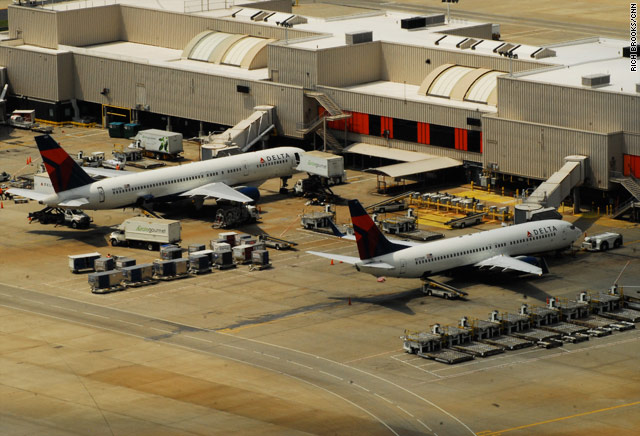 How NextGen will change air travel

Training for air traffic control

Another flight controller asleep on duty

Asleep at the FAA?
No one was hurt in the collision, but wings on both planes were damaged, according to the National Transportation Safety Board. Video of the incident showed the smaller plane appearing to turn at about a 45 degree angle after the giant Air France jet taxied by.
Typically, planes taxiing at airports are tracked by air traffic controllers watching from towers. They use radar and other technology to track aircraft when bad weather makes it hard to see.
But during good weather controllers usually follow planes by using their eyes -- even at night.
"You'd be surprised -- almost all of this is done with pieces of paper, an eyeball and a pencil," said Voss. "It is a very visual and manual activity."
If either the Air France or the Comair pilot had access to a GPS cockpit surface map, the JFK collision might have been avoided, he said. Under NextGen, animated surface maps in the cockpit will be a critical safety improvement, said Voss.
Specifically, cockpit displays "might have shown the A380 crew that the regional jet was not pulled up as far as expected," Voss said. "It also may have alerted the regional jet crew that the world's biggest airliner was about to taxi behind them, in which case he might have pulled up a bit further."
You'd be surprised -- almost all of this is done with pieces of paper, an eyeball and a pencil
--Bill Voss, Flight Safety Foundation
The NTSB is investigating the incident. Preventing so-called ground incursions such as the JFK collision is high on the NTSB's list of priorities, say aircraft operators.
Will air traffic overhaul make us safer?
When the entire plan is fully implemented by 2025, NextGen is widely expected to make air travel more efficient, faster and safer in a system already widely accepted as the safest in the world.
Asleep at the switch
It has been a tough few weeks for the FAA, as officials have acknowledged a series of reports about controllers sleeping on the job, prompting questions about worker fatigue, staffing and scheduling.
"What Next Generation does require us to do is to really work closely with our controllers in deployment so that we can ensure that they are properly equipped and trained to take on these new technologies," said FAA Deputy Administrator Michael Huerta.
Huerta's boss, FAA administrator Randy Babbitt has acknowledged the situation has left him "infuriated."
The string of reports about controllers asleep at the switch began March 23, when an American Airlines flight was seeking landing clearance at Washington's Reagan National Airport.
Pilots and a regional air traffic controller were unable to contact anyone at Reagan's tower, so pilots landed the airliner safely without assistance. The FAA later said the controller was asleep and was "in the process of a disciplinary proceeding which will terminate this employee."
How are controllers trained?

In that situation, NextGen technology wouldn't set off "any special bells or whistles to wake anyone up, unless they start mounting a cattle prod to it or something." joked Voss.
Living the life of an air traffic controller
A cockpit display showing the location of the incoming plane and any surrounding aircraft would go a long way toward reassuring a pilot left stranded without a controller, said Voss.
Air traffic control hinges on 'human factor'
It is designed to improve teamwork between pilots and air traffic controllers, say aviation officials. It's not at all meant to replace controllers.
"It offers another layer of protection," he said. "However, we don't know if those other aircraft can see the pilot's plane -- that's the incremental difference. You still really do need to have a controller and a landing clearance."
Shifting roles and responsibilities
Does having a cockpit display lessen the importance of the air traffic controller?
No, said Melvin S. Davis, top NextGen official at the National Air Traffic Controllers Association union. It won't make the job easier, just more efficient, he said. "Human capacity remains about the same, but the amount of machines moving through the system based on that human's capacity increases."
Davis said it's time to do away with the old fashioned paper-and-pencil flight strip markings that controllers in towers have been using to track aircraft for decades. "Those are things that should be done digitally that aren't," he said.
Aviation leaders are quick to point out the nation's impressive commercial airline safety record in 2010: zero fatal crashes.
Will NextGen help controllers battle fatigue?
"It is far too early to tell fatigue-wise how the interaction with the new systems of tomorrow will differ from the systems that we deal with today,' said Davis. "But those are things that are being explored and developed as we speak."
As in many industries, air traffic controllers with more experience often look down their noses about the abilities of the younger generation.
The best controllers, they say, maintain a constantly moving mental picture of all their air traffic -- what they call situation awareness. Maintaining situation awareness is critical to aviation safety, especially if there's a problem with the tracking technology.
Privately, controllers have expressed concern that younger controllers may be too reliant on technology when tracking their planes -- and not as reliant on their situation awareness as they should be.
NextGen technology may have helped a recent air traffic control incident involving first lady Michelle Obama, Voss said.

The plane the first lady was flying on, a military version of a Boeing 737, was approaching Andrews Air Force Base in Maryland when it came too close to another aircraft. Controllers directed the first lady's pilot to abort the landing.
Neither plane was ever in any danger, officials said.
GPS-based tracking might have given the controller more time to adjust the flight path of the first lady's plane, said Voss. This is because there would be virtually no delay on the display screen, compared to old-style radar.
Airline traffic is expected to skyrocket to 1 billion annual passengers by 2021. But during the recession, the nation's aging air traffic system has enjoyed a reprieve in the form of sagging ridership. It's an opportunity to improve safety that shouldn't be missed, said Voss.
"The only question is can we get enough done during this reprieve to start tightening up the airways."
CNN's Jeanne Meserve and Mike Ahlers contributed to this report.
FOLLOW THIS TOPIC