STORY HIGHLIGHTS
These lodges are not accessible by modern transportation
Most of these remote getaways discourage cell phone use and other technology
Some do not have electricity or other modern conveniences
(CNN) -- For travelers who believe the journey is just as important as the destination, these five lodges offer unique adventures in getting there -- and getting away from it all.
Modern transportation and technology aren't part of the experience, so you'll need either good hiking shoes, snow skis, a horse or a mule to visit these remote getaways.
The Len Foote Hike Inn
If you enjoy the great outdoors, but prefer a bed over camping, then the Len Foote Hike Inn in north-central Georgia may be for you.
The lodge is nestled inside Amicalola Falls State Park near the southern terminus of the Appalachian Trail and can only be accessed by hiking trails.
Visitors check in at the state park visitor's center, then hike five miles along a scenic path to the inn.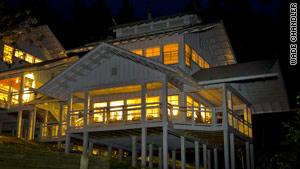 The Len Foote Hike Inn is near the Appalachian Trail and can only be accessed by hiking trails.
The lodge insists you leave pets, cell phones, beepers and radios at home, so you're really forced to cut yourself off from the rest of the world.
The rooms are rustic without any modern conveniences such as a television or telephone.
"The Hike Inn forces you to relax and slow down and enjoy yourself," said frequent visitor Jason Hicks of Tucker, Georgia.
Your day can be lazily spent sitting on a porch that overlooks the scenic Blue Ridge Mountains or unwinding in the Sunrise Room with a book from its library.
Meals are served family style in the dining room and cookies, tea and other treats are provided between meals.
The inn boasts environmentally friendly touches, like composting toilet systems and solar panels that are used to help produce 15% of the lodge's electricity.
Rates are $70 per adult for double occupancy and $97 per adult for single occupancy. Discounts are available for children younger than 12.
To make reservations, call 800-581-8032, between 10 a.m. and 5 p.m. ET Monday through Friday.
Phantom Ranch
Enjoy one of the seven natural wonders of the world and its breathtaking views during your stay at the Phantom Ranch, located at the bottom of the Grand Canyon.
The only lodge below the canyon rim, this popular retreat is on the U.S. National Register of Historic Places. The ranch was completed in 1922 and was a challenge to build since nearly all the building materials had to be hauled down to the canyon floor by mules.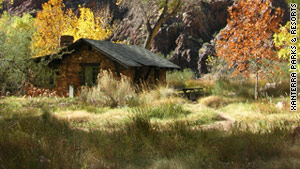 Phantom Ranch is the only lodge located below the Grand Canyon rim.
Advance overnight reservations are required, and visitors should book early. Reservations are accepted up to 13 months before your visit.
The ranch can only be reached by foot, mule ride or rafting to it via the Colorado River.
Accommodations include basic cabins and male and female dormitory spaces. Meals at the Phantom Ranch Canteen are offered to overnight guests and travelers passing through during the day. These meals must be reserved in advance.
Reservations can't be made online, but requests to stay at the ranch can be made via its reservation request form. Rates for overnight stays at the ranch start at $42.02 per person.
Charit Creek Lodge
A "peaceful" place where you can "really get away from it all" is how many visitors describe Charit Creek Lodge.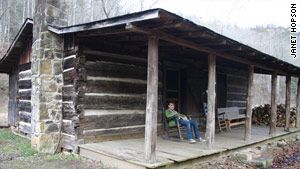 Charit Creek Lodge offers bunk bed style rooms or two small private cabins.
The lodge is only accessible by foot, bike or horseback along several well-maintained trails inside the Big South Fork National River and Recreation Area in north-central Tennessee. Two major trails, ranging from less than a mile to about two miles, lead to the lodge.
A popular equestrian retreat, the lodge's barn can accommodate up to 35 horses overnight. Charit Creek Lodge also specializes in cowboy campfire-style dinners and fresh home-style breakfasts.
You'll be forced to ditch technology at this rustic lodge, as it has no electricity and is illuminated by kerosene lanterns.
"One of the best features is how the sky illuminates at night and you can really see the stars glow -- it's a truly peaceful experience," said Larry McMillan, the general manager of the Charit Creek.
The lodge offers two types of overnight accommodations -- bunk bed style rooms or two small private cabins.
Rates range from $22 to $72 a person, per night, depending on whether you want meals and bed linens included with your stay. Call 931-879-2776 for reservations.
LeConte Lodge
Book early at LeConte Lodge. Guests often have to reserve a room at this popular Tennessee getaway up to a year in advance.
The lodge, nestled 6,500 feet atop Mount LeConte, offers breathtaking views of the Great Smoky Mountains National Park. Stunning sunrises and sunsets bookend the days and sometimes visitors will spot black bears roaming nearby.
"LeConte is very rustic and creates an atmosphere of simpler times," says frequent visitor Tom Collins of Duluth, Georgia.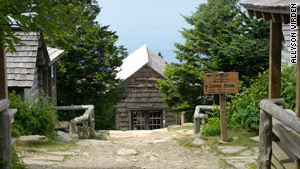 Prospective guests often have to book a room up to a year in advance at LeConte.
LeConte bills itself as the perfect getaway from a high-tech world, so don't expect modern conveniences at this inn. It's very primitive with a wash basin and bucket for sponge baths, no electricity, no television, kerosene lanterns for light, and propane heaters for warmth. There is one up-to-date luxury: flush toilets.
The only way to reach LeConte is on foot along one of five trails that lead to the inn. The shortest trail is five miles and the longest is eight.
Supplies are brought in via helicopter and llama pack trains since it's so remote. LeConte can accommodate 60 guests a night in either small personal log cabins or three multiroom lodges.
The staff prepares family-style meals (think meat and potatoes) served in the lodge's dining room with your choice of coffee, hot chocolate and water. Wine is provided for an additional cost.
Rates are $127.31 for one adult or $254.62 for two. This includes tax, evening meal, breakfast and bedding. For reservations, call 865-429-5704.
Backcountry huts at Mount Ranier
A fabulous mountain view awaits you during your stay inside a hut in Washington's backcountry.
Be sure to bundle up, because you'll have to ski or snowshoe to reach this overnight accommodation, supported by the nonprofit organization Mount Tahoma Trails Association.
"Since there is no cell service, television or internet, you are certain to have a relaxing weekend of skiing and exploring," said Noah Tratt of Seattle. He's a frequent visitor to the hut system.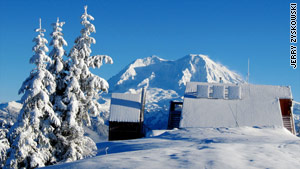 One of three overnight accomodations visitors must ski to in Washington's backcountry.
Visitors have three huts from which choose: Copper Creek Hut, The Yurt and The High Hut.
Copper Creek Hut sleeps up to 14 people and can be reached along an easy trail. It has views of Mount Rainier, Saw Tooth Ridge and the Nisqually Valley.
A partially ungroomed trail leads visitors to the second sleeping spot, The Yurt. It's the most remote accommodation and sleeps up to six people.
Finally, The High Hut, which is the highest at 4,760 feet above sea level, offers a stunning view of Mount Rainier and views of Mount St. Helens, the Cascade Range, the Olympics and part of Mount Adams. This cozy hut sleeps up to eight people and can be reached via a groomed or ungroomed trail, depending on your preference.
All three huts have modern conveniences such as heat and electricity, a kitchen and utensils for meal preparation.
The price for a hut rental is $15 a person. An overnight permit is required to spend the night in the huts. Go to http://www.skimtta.com for more information.
FOLLOW THIS TOPIC