STORY HIGHLIGHTS
La Terrazza restaurant at top of the Hotel Eden offers a jaw-dropping view, producer says

Check out Caffe Giolitti, off Via del Corso, for the best ice cream in town, producer says

Bucatini all'Amatriciana is a typical pasta dish not to be missed, she says
Editor's note: Gisella Deputato is a CNN producer in London. She is from southern Italy and spent her university years in Rome. Have you been to Rome? Share your tips below.
(CNN) -- Romans do know how to throw a party. Rome is young, fun and fast-moving, but you'll get the most out of the Eternal City if you really take time to explore and savor it.
This magical city is all about walking. As you start wandering about, you can't help but stand in awe of the historical sites scattered copiously all over the city. It's a place you'll want to discover on foot or by public transport as traffic is spectacularly bad.
Despite being chaotic and crowded, Rome is surprisingly romantic. It's important to take time to explore the tiny cobbled streets, the untouched squares and the less-frequented spots.
Where is the best place to people watch?
Campo de' Fiori is a must-see spot in Rome -- one that both tourists and locals love. In the morning, it's a flower and food market; in the evening, there's plenty of alfresco bars and restaurants -- ideal for meeting people or just to sit, sip some wine and take in the atmosphere.
Where can you get the best view of the city?
Il Pincio, the Pincian Hill, in Villa Borghese offers a breathtaking view of the city and Piazza del Popolo. It's also the spot of choice for romantic couples so it gets very crowded at sunset.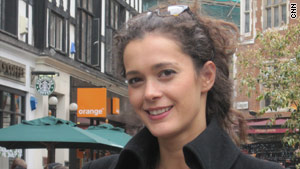 Gisella Deputato is a CNN producer in London.
Which restaurant would you take your loved one to for an anniversary or other special occasion?
I would go to the restaurant La Terrazza at the top of the Hotel Eden in Via Veneto. The food is excellent, and you can eat while enjoying a jaw-dropping view of the city.
What is your favorite neighborhood?
Trastevere, with its narrow, winding cobbled streets, is a great, charming place to explore in the morning and one of the coolest neighborhoods to hang out in the evening. The church Santa Maria in Trastevere, which dates back to the third century, is one of Rome's oldest.
What's the best way to blend in?
Have an espresso at the legendary Caffe Sant'Eustachio in Piazza Sant'Eustachio -- it's the best place to meet the locals and taste the celebrated house blend.
What's the biggest misconception about your city?
Romans (and Italians in general) are known for being friendly, jovial and casual when it comes to social occasions. However, what foreigners don't know is that people in Rome have a set of unspoken rules that apply to anything from food to clothing and all sorts of lifestyle choices: how a certain type of pasta can only be eaten with a specific sauce; how there's a set time for the aperitivo in the evening; how to dress for an important occasion.
Where do you go to relax?
Villa Borghese, the four-square-mile gardens in the heart of the city. You can walk through the park and stumble upon sculptures and fountains or go for a quick tour of the Borghese Gallery and Museum, where you can admire masterpieces by Bernini, Titian, Caravaggio and other Italian masters.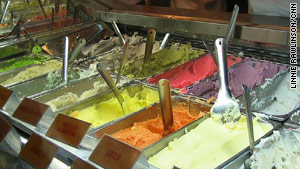 Deputato says Caffe Giolitti has the best ice cream in town.
What essential thing should visitors see/experience if they only have a few hours?
A walk down Via dei Fori Imperiali toward the Colosseum is bound to be hugely rewarding.
Before you set off though, head to Caffe Giolitti, off Via del Corso, for the best ice cream in town. But avoid peak times as queues are long, and Italians are known for not respecting them. ...
What's the biggest tourist trap? Is there a tourist trap that's actually worth seeing?
The Trevi Fountain, immortalized in Federico Fellini's "La Dolce Vita," has to be one of the most amazing spots in Rome. It sits on a small square, so it gets crowded very quickly. Tradition has it that if you throw a coin into the water you will return to Rome.
Where was your most memorable meal?
Over the years I have had so many memorable meals in Rome, but the pizzeria Panattoni, also known as L'obitorio (the morgue, because of its thick marble tables), makes the best pizzas in town. If you love pizza, this is the place to go.
Are there local specialty dishes or drinks that visitors must try?
Bucatini all'Amatriciana is a typical pasta dish with bacon, ripe tomatoes, pecorino cheese and hot peppers. I would wash it down with a glass of wine from Castelli Romani (literally Roman Castles), a group of attractive towns and villages situated southeast of Rome.
What is a good local souvenir?
Rome's most recognizable landmarks are the Colosseum and Vatican City so a miniature souvenir of one or the other is always a safe choice. Sport fans always opt for a Roma football jersey (of [Francesco] Totti, of course).
Have you been to Rome? Share your tips in the comments section below.
FOLLOW THIS TOPIC