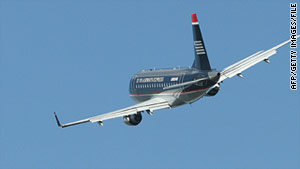 Offering first class seats in smaller regional jets helps airlines build loyalty among frequent fliers.
STORY HIGHLIGHTS
US Airways is adding first class on many regional jets

The chance at an upgrade is enough to sway travel decisions for some frequent fliers

The loyalty of frequent business travelers is very valuable to airlines
Editor's note: Brett Snyder writes a weekly CNN.com travel column. Snyder is the founder of air travel assistance site Cranky Concierge and he writes the consumer air travel blog The Cranky Flier.
(CNN) -- If you're a frequent flier, you know the pain of flying on a regional jet. Though you're used to getting that upgrade on many of your flights, you know it's not an option on the little guys since there often aren't any first class seats to be had.
This, fortunately, is changing.
As airlines have moved these airplanes on to more important, longer routes, they've started to realize that the inside of the airplane needs some serious attention.
The latest airline to make a change is US Airways. It has announced that by early next year, all the US Airways Express so-called "regional" jets with more than 50 seats will have a first class cabin with either 8 or 9 seats. Today, they're all coach.
The impact of this change is actually quite staggering. There will be a total of 110 airplanes getting the makeover, and that will mean upgrades will be far more accessible for frequent fliers. In fact, today, only 40% of the departures operating under the US Airways name have first class. When this is done, it will jump to 61%.
This all sounds great for you, the traveler, but why the heck is US Airways doing this? All we hear about from the airlines is that they need to keep costs down, and adding first class seats isn't going to help with that. There is, however, a good reason for this move. Upgrades, as I wrote in February, generate more customer loyalty than anything else, and airlines want to attract the high dollar frequent fliers that only survive their grueling travel schedule by getting pampered up front.
That's not the only reason, of course. On domestic flights, there are a handful of high dollar first class seats sold outright that generate good revenue. US Airways also has an upgrade program where any traveler can pay $50 to $500 to sit up front if seats are available at check-in. Loyalty, however, is a driving force. It's a competitive issue that's become more important as the airlines have shifted how they use these smaller jets.
Don't let turbulence freak you out
When regional airlines (then called commuter airlines) first started to affiliate with bigger airlines, they were flying tiny prop planes on very short flights. These weren't the kind of flights where anyone would expect a first class seat, and they really didn't have room for them anyway. But things changed in the 1990s.
When the first 50-seat regional jet was introduced, it allowed these commuter airlines to start flying longer flights. In the beginning, the flights were usually not much more than an hour and a half and they were to small cities where you weren't going to find a first class seat on any airline. Not having a first class cabin wasn't a huge issue.
But things changed quickly. The regional airlines started operating larger jets that didn't seem regional at all. With some having just shy of 100 seats onboard and long range capability, these airplanes could be found on busy routes that were previously operated only by the large legacy airlines. For example, you'll see them as US Airways Express between Philadelphia and Minneapolis. Delta Connection puts them on the route from Boston to Washington. United Express sends them from Chicago to Dallas.
By using these smaller airplanes operated by less costly regional airlines, the big guys were able to offer more frequent flights on competitive routes, and more frequency is important for wooing the business traveler. The result: Travelers now have a choice, and sometimes that includes first class. It can be enough to sway some frequent fliers.
A great example is someone who wrote to me with a dilemma. He was a frequent US Airways flier out of Albuquerque, New Mexico. Since US Airways started putting its smaller jets on flights to Phoenix, he was sick of never having the chance at an upgrade and was thinking about switching to another airline.
The other legacy airlines, American, Delta and United, had already committed to putting first class on their jets with more than 50 seats, so they offered him more opportunity than US Airways, which no longer had a single flight out of Albuquerque with first class.
It's exactly that kind of person, the high value frequent flier, that US Airways wants to keep happy. And first class on those jets is going to go a long way in that regard.