Traveling by train Sunday? Buy your Amtrak tickets now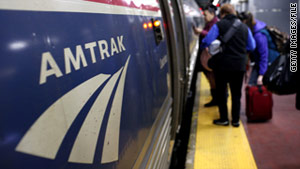 Spring break is not usually a busy time for Amtrak, a company spokesman says.
STORY HIGHLIGHTS
An upgrade to Amtrak's reservation system will take it offline Sunday
Passengers are being urged to pick up or buy their tickets ahead of the outage
The system will be down from 3 a.m. ET until early afternoon Sunday
(CNN) -- Travelers planning to board Amtrak trains Sunday are being urged to buy and pick up their tickets ahead of a planned upgrade to the rail company's computer system.
The work on Amtrak's ticketing and reservation system will take it offline for an unspecified portion of the day, beginning at 3 a.m. The upgrade is expected to be complete in the early afternoon.
"Although we are taking measures to minimize the impact of this upgrade on your travel plans, we ask that you please arrange to purchase and pick up your tickets before Sunday," a statement posted on Amtrak's website said.
Cliff Cole, a spokesman for Amtrak, noted that a service notice to passengers has been posted since Wednesday and, unlike the busy travel days before Thanksgiving, "spring break is not an unusually busy time for Amtrak."
"Ticket agents will still be ... at stations where actual ticket windows exist, to assist customers with last-second changes as best as they can during the outage," Cole said.
CNN's Sandra Endo and Matt Hoye contributed to this report