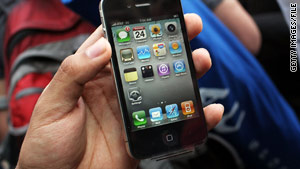 The growing use of smartphones and other devices is likely to bring big changes to inflight entertainment.
STORY HIGHLIGHTS
Smartphones and other devices are likely to change how airlines think about entertainment
Internet access on flights is an increasingly popular amenity
Onboard screens may give way to entertainment offered for passengers' own devices
Editor's note: Brett Snyder writes a weekly CNN.com travel column. Snyder is the founder of air travel assistance site Cranky Concierge, and he writes the consumer air travel blog, The Cranky Flier.
(CNN) -- When you think of excellent in-flight entertainment, you probably think of a personal screen with hundreds of movies, TV shows, games and more, right? Don't get too used to it.
Not so many years from now, those might just be a distant memory, replaced by your own technology.
Why would airlines get rid of something that's so popular today? Because there will be a better way. Two words: "internet" and "power."
The need to entertain passengers isn't going to go away. People will still be flying insanely long distances for hours and hours on end. But the availability of internet onboard is changing how that might look.
Those personal in-flight video screens may look cool, but they're also pretty expensive to install when you consider the cost of the system and the time to pull the airplane out of service to do the work. On top of that, some of these systems can be a pain to maintain. On a Boeing 747, that's more than 300 individual screens that can break, along with the infrastructure.
Pay attention! Airlines stretch to make safety fun
The introduction of internet on airplanes has changed the game.
In its current form, travelers with a smartphone or other internet-enabled device can log on at 30,000 feet and provide their own in-flight entertainment. As we all know, the internet can provide weeks, if not years, of material to help pass the time. But the internet itself isn't even necessary to provide entertainment.
Airlines could put a server on each airplane and then allow wireless access to all the content on it from the cabin. Gogo, the internet provider for most U.S. airlines, is working on this and should be testing it soon.
It could look exactly like the system you see in the back of the seat, but you provide the device. And it wouldn't require internet access, just a closed network on the airplane. All that's really needed is for the customer to have a device to access the network. For the airlines, this is a low-cost way to provide the same content to travelers that is provided today. And just as we see now, some would provide it for free while others might charge.
However, what we're seeing now is just the beginning of where this will go.
At US Airways Media Day last week, President Scott Kirby noted that internet use on its airplanes is low right now, but he believes it will effectively become a required amenity. Systems for faster transmission of information at a more cost-effective price are expected to come online in the next couple years on a global scale that will make onboard internet as primary entertainment a real solution.
Don't let turbulence freak you out
But there is a big problem. These devices, particularly smartphones, suck up a lot of power, especially if you're streaming video on them. Laptops and tablets are better, but the batteries still won't last long enough. So for this plan to truly work, the airlines need power ports at every seat. So far, this is common in premium cabins on long-haul flights, but most coach seats are lacking.
Virgin America is the only domestic airline with power ports throughout its fleet. Some, such as Delta and American, have it only in some rows while others like JetBlue have none at all.
What about those people who don't have their own device? Eventually, that probably won't be an issue.
We'll all have a chip embedded in our arms or something similarly insane. But in the short run, the airlines could always look at renting out media players for those who want them. Or if the airlines don't want to get into the game, someone could open up their own business on the ground renting these things.
So in the future, if you don't see a video screen, don't worry. Just break out that phone, and you'll still have plenty to keep you busy for the whole flight ... and for weeks beyond that.
FOLLOW THIS TOPIC