STORY HIGHLIGHTS
Many Americans only come into contact with members of the military at airports

An airport etiquette has emerged that says: You may not like the war, but do like the warrior

Travelers show appreciation by clapping, thanking and buying meals for military personnel
Atlanta, Georgia (CNN) -- Sara Koniar puts down her lunch, jumps to her feet and joins her hands together in thundering applause as men and women in uniform file past her at the Atlanta airport.
The soldiers and sailors wear game faces that hide anxiety and backpacks that weigh down shoulders. They must be heading back to war, Koniar says.
The Franklin, Wisconsin, resident rarely comes face to face with a soldier. She doesn't have relatives serving. Nor does she live in a military town.
Here, at Hartsfield-Jackson International Airport, Koniar seizes her opportunity to show appreciation.
"They deserve it for everything they are doing," she says.
Koniar is hardly alone in that sentiment, though millions of Americans find themselves detached from the lives of service men and women.
Fewer than 1% of Americans serve in the military today, compared to 4% who served in Vietnam or 12% in World War II.
Despite the wars in Afghanistan and Iraq, most Americans are not likely to know the agony of separation or the uncertainty of the battlefield, the disconnect so severe that it prompted Navy Adm. Mike Mullen, the chairman of the Joint Chiefs of Staff, to recently say: "Someday, the American people may no longer know us."
But the airport is different, and it has become a forum of sorts for Americans to interact with the military.
Guide to approaching troops at the airport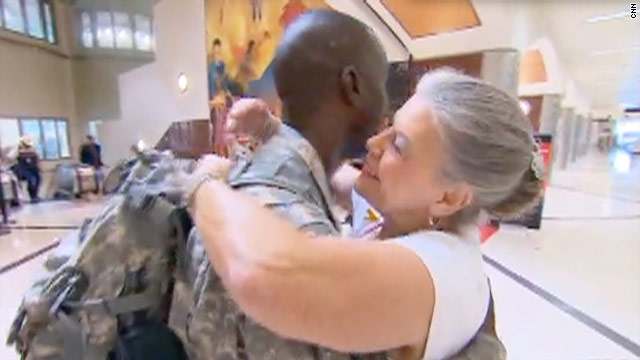 The 'hug lady'
Thousands of Americans remain deployed overseas and when they return home for leave, they come through two airports: Everyone going west of the Mississippi flies to Dallas and those with homes east of the river travel through Atlanta.
Over the years, an airport etiquette has emerged that says: You may not like the war, but do like the warrior.
Take Bobby Segal of Concord, New Hampshire. He, like Koniar, rarely meets soldiers in his hometown. But on this spring day, when the sun is bursting through the Atlanta airport atrium, Segal pauses as he walks by two soldiers seated at a counter of the Atlanta Bread Company.
"Thank you for your service," he says, heading to the security line. It's the very least he can do.
Sgt. First Class Chad Walker nods. It's great to get a pat on the shoulder, he says.
Next to him, Spc. Crystal Sims is still savoring a breakfast of biscuits, gravy and bacon from Paschal's southern food. When she got out her wallet to pay, the man behind the register told her to put it away. A security guard at the airport had already taken care of it.
Only 21 and on her first deployment to Afghanistan, Sims felt special.
When Navy Petty Officer 2nd Class Calson Bynoe boarded a Delta flight from Norfolk, Virginia, to Atlanta, the flight attendants announced the presence of several sailors. The passengers clapped.
"It was pretty cool, exhilarating, really," he says.
Since the Iraq war began in 2003, most U.S. airlines have gone out of their way to honor the military.
Master Sgt. Kenneth Jernigan was upgraded to first class on his Delta flight from Syracuse, New York.
AirTran counter agent Terry Brown says military members never pay for checking in bags or for overweight luggage on that airline.
"I think we all know the risks they take," he says, looking out at the different uniforms in the airport atrium. He should know, he served in the Navy during the tail end of Vietnam.
On any given day, about 700 soldiers, sailors, airmen and Marines walk the halls of the Atlanta airport, says Mary Lou Austin, head of the USO in Georgia.
On this particular afternoon, two flights are heading to Kuwait and the airport atrium is speckled with camouflage.
Dean Estoll of Arlington, Texas, always takes the time to chat with soldiers at the airport.
Over a heaping plate of Chinese food, Estoll talks to an Army sergeant about how he will get back to his base in Afghanistan. Estoll did not know about the chartered jets that fly from Atlanta to Kuwait City.
"We're all so busy with what we do," he says. "The war is out of sight, out of mind. We're not the ones over there dodging bullets."
Shyam Joshi is only 10 but excited to see tough soldiers like the ones he has only seen on television. He springs up from his seat and claps.
"They fight for our country," he says. "I hope they defeat the bad guys."
A USO volunteer leads the soldiers as they march toward a processing center for their paperwork. Sometimes, the volunteer encourages people to clap. Other times, it's spontaneous.
After so many years of Americans at war, sometimes it's quiet and people don't even look twice.
A few soldiers say they worry that if the war in Afghanistan drags on, they will one day become invisible. Or worse, despised, like Vietnam veterans who were flown back home in the middle of the night to avoid airport crowds.
Catrina Knight returned from the first Gulf war without public recognition. She claps hard as arriving soldiers emerge from the underground terminal train.
"I think people have changed," she says. "They have become more receptive. I never had anyone clap for me."
Maybe, she says, it's all the media coverage of the war, not just about what is happening on the battlefield but also the aftermath at home. Reports of horrific injuries, post-traumatic stress disorder and crumbling families have helped raise awareness of a soldier's plight.
"I don't think politics has anything to do with it anymore," Knight says. "When you put on a uniform, that says you're willing to sacrifice."
People get that these days, she says. And it's nowhere more apparent than at the airport, where arduous journeys begin for America's warriors.
In January, the millionth soldier on leave passed through Atlanta since the USO's airport program for them began in 2004.
Nobody at the USO wants to reach the next milestone. They just want the war to end.
Austin says she still gets phone calls from curious people.
"What are all these soldiers doing here?" they ask. "I thought we were drawing down."
"Let's face it," Austin says. "The Army and the Marines have gone to war. The rest of America has not."
In cities and towns all across America, especially in the midst of an economic meltdown, war is not a subject that gives pause. For Austin, that's why the Atlanta airport is special.
"We're not a military town," she says, "except for Hartsfield-Jackson."
FOLLOW THIS TOPIC