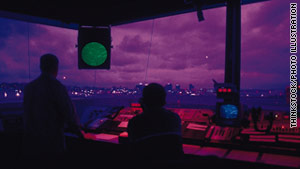 STORY HIGHLIGHTS
NEW: A controller slept during an overnight shift at Knoxville's airport, the FAA says
The incident was "willful," the FAA chief says, and the employee will be let go
A previously reported incident occurred at Reagan Washington National Airport
Washington (CNN) -- A second air traffic controller has been found to have fallen asleep on the job, this one intentionally sleeping for five hours while a fellow controller, working alone, landed seven aircraft, the Federal Aviation Administration said Wednesday.
The FAA is taking steps to fire the controller, the agency said.
The incident occurred at McGhee Tyson Airport in Knoxville, Tennessee, on February 19. A controller on duty in the radar room went to sleep during his midnight shift. A fellow controller, working in a different room, handled both the radar and tower positions while the other controller "was unresponsive," the FAA said.
All seven of the planes he handled during the five-hour period landed safely, it said.
The Knoxville airport is considered an "up-down facility," meaning the airport control tower and the regional radar facility are on separate floors. Each is staffed by one controller during the midnight shift.
Air traffic control staffing under scrutiny
The incident came to light Wednesday during a congressional FAA budget hearing at which agency Administrator Randy Babbitt was asked about a previously reported March incident in which a lone controller at Ronald Reagan National Airport near Washington fell asleep during an overnight shift.
"Have there been other incidents of the same thing?" Rep. Tom Latham, R-Iowa, asked Babbitt.
"Yes sir, we actually, I'm disappointed to say, in our investigation, we did find another incident," Babbitt responded. "And it was, unfortunately, willful."
Babbitt said the FAA is "in the process of disciplinary proceeding which will terminate this employee."
Asked if the agency is handling the case differently than the Reagan Airport incident, Babbitt indicated it is, saying, "This was a willful violation."
In a statement released later Wednesday, the FAA said it "will not tolerate this type of unprofessional and inappropriate behavior. The agency is committed to ensuring the safety of the traveling public and is conducting a nationwide review of the air traffic control system, including overnight staffing at selected airports around the country."
The investigation into the Reagan Airport incident is continuing. In that incident, the controller, a 20-year veteran supervisor, acknowledged falling asleep during his midnight shift, according to the National Transportation Safety Board, which is conducting the investigation.
He was the only controller at the time in the Reagan Airport tower. Two aircraft landed at the airport while he slept.
Normal sleep a 'privilege' for night workers
After that incident, the Department of Transportation mandated that a minimum of two controllers remain in the Reagan tower during the overnight hours, and it is reviewing staffing levels systemwide.
FOLLOW THIS TOPIC