STORY HIGHLIGHTS
CNN's Paul Vercammen likes classic Hollywood haunts like the SmokeHouse

For souvenirs, try picking up goods from studio productions at It's a Wrap

Try the Ivy, Chateau Marmont or the Four Seasons for celeb sightings, but no shrieking

Editor's note: Paul Vercammen, a senior producer in CNN's Los Angeles bureau, has lived in L.A. for 20 years. Share your best Los Angeles tips in the comments section below.
Los Angeles, California (CNN) -- "Laid back" is not the way I'd describe Los Angeles.
Although it is true that your typical L.A. resident probably functions at a more relaxed pace than a Wall Street trader during a selloff, I think many Southern Californians are high-energy. They just focus all that adrenaline differently.
In L.A., a lot of people put plenty of effort into their social life, whether it's taking off for a great entertainment event or someone's outdoor soiree, screaming for the Dodgers, Lakers, Trojans or Bruins, making an event of a great meal, or trekking to the beach, hiking or some other form of exercise. I describe the vibe as "work hard and play hard, too."
Let's establish that if you are looking for ultra-expensive, nose-in-the-air, glitterati experiences in Los Angeles, I am a lousy source. But if you want a working man's guide, here goes:
Which restaurant would you take a loved one to for an anniversary or other special occasion?
The SmokeHouse is an old-school Hollywood haunt that features dark booths and great beef and is just a model's runway walk from Warner Brothers Studios (a CNN sister company).
For intimacy, sneak into a barely lit table, and at night you may hear some great crooner or pianist plinking away. The Sunday brunch is pure hedonism, as you drink mimosas to wash down crab legs, crème brûlée, tri-tip sirloin and crepes. Enjoy the sideshow while aging studio characters in absurd hats and an array of wannabe entertainers forage for their seventh serving.
What's the best place to try to spot A-list celebrities?
Among the target-rich celebrity environments would be the hotel for the hip and the dead, Chateau Marmont. The Ivy is another top star spot, a white-picket-fenced, studio-schmooze pit of a restaurant. Even if you don't see a celebrity at the Ivy, note that a lot of the clientele are dirty rich power brokers who sign large checks and have probably yelled at interns.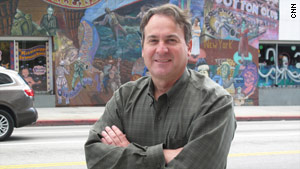 CNN's Paul Vercammen has lived in Los Angeles for 20 years.
The hot tip is the reasonably priced Newsroom Café across the street from The Ivy. You can enjoy a smoothie and other healthy food at the Newsroom Café while the Hollywood players blow paychecks at the Ivy.
There is one spot that can, on a clear night, offer more stars than the Hubble Telescope. I sent a couple friends to the Four Seasons, and in one lucky, refreshment-enhanced session, they knocked knees with Mick Jagger, Bruce Willis and Danny Glover. Someone supposedly said something profound about God, fate and vodka.
What is your favorite neighborhood and why?
I love Toluca Lake and being able to walk to the SmokeHouse, Bob's Big Boy and the Falcon Theater. I like that a semi truck pulling a rig stacked with dozens of carolers weaves through the streets on Christmas Eve. I adore the Toluca Lake open house when the various shops and restaurants open their doors and you can have free snacks and talk to shop owners about your likes and dislikes.
I like that Toluca Lake is leafy and green and is often 17 degrees cooler than the Northwest Valley in the summer. I like that the Toluca Baseball youth league is a sanctuary set between the studios and the L.A. River that draws kids from every demographic in the city. I've coached kids who are part Armenian, Filipino, Salvadoran, Mexican, Israeli, Italian, Persian, Thai, Russian, Jamaican, Guatemalan and ... I'll stop.
By the way, Bob's Big Boy would be a great stop on a Friday night when various gearheads, including Jay Leno once in a rare while, show up with their classic cars. The Big Boy combo, with a double-decker cheeseburger, fries and a salad, seems to be able to lighten any cranky mood.
How do tourists stick out, and what's the best way to blend in?
Tourists armed with Star Maps or amusement park T-shirts stick out like pimples at the end of your nose. If you do see a celebrity, stay calm -- no shrieking -- and tell them, if it's true, that you admire their work. That's a polite way to ask for an autograph. And don't forget, a lot of Hollywood types are in the business because of whatever issues in adolescence, and now they crave momentary attention.
What is the biggest misconception about your city?
That everyone is a wafer-thin entertainment industry employee who eats rabbit food.
Where do you go to relax?
I like to head to the beach between Santa Monica and Zuma, or up north to Santa Barbara County. I also like to hike in Wildwood Canyon in the hills above Burbank.
Where was your most memorable meal?
I will never forget working into the night after the O.J. Simpson verdict and being stomach-pinging hungry. The crew and I rolled into Tito's Tacos, right by the 405 freeway in Culver City. Tito's is not an upscale Mexican venue where a suave waiter named Sebastian ladles on too much attitude and black beans. Tito's is a walk-up window stand with crunchy tacos and fresh salsa and a cheese enchilada that's a melted mess of flavors. Always buy too much at Tito's and crack open the cardboard box later when you most need a Mexican snack to restore your mojo.
Where can a visitor find good souvenirs?
There are really cool deals at the two It's a Wrap stores that bring props and clothes daily from the studios and sell them to regular folk. Most of the clothes are marked with a code that indicates where they came from, such as "Hannah Montana." While you may not necessarily end up wearing something once hanging on Miley Cyrus or Billy Ray, shirts, jackets, blouses and more are usually of an extremely high quality and often unique.
Also, Amoeba Music in Hollywood has classic music and movie T-shirts. Some of the shirts I've seen in the Amoeba bin include a Napoleon Dynamite movie shirt from its release, a green U2 Joshua Tree, a Kings of Leon football helmet and a vintage Michael Jackson.
Where can you get the best view of the city?
Los Angeles is such a large, spread-out city, you would have better luck stapling pudding to a newspaper than trying to nail down one spot for viewing. But to gaze upon downtown L.A., with its glass towers and red-bricked USC campus in the background, there's a good view from the Dodger Stadium parking lot. If the timing is right and you take in a Dodger game, try the grilled Dodger Dog, and add chopped onions with a turn of the crank at the confection stand.
What's something to see that might not be on the radar?
The Troubadour Theater Company puts on these mashup live plays that blend Shakespeare, holiday themes and pop music. During such comedies as "Much A Doobie Brothers About Nothing," "It's A Stevie Wonderful Life" and "Santa Claus Is Coming to Motown," the Troubies have heckled late audience members, inserted theater-goers into plays and ridiculed cell phone users.
The hilarious shows are backed by excellent studio musicians. Coming this summer, a restaging of the epic "Fleetwood MacBeth" and another show "Aristophanes, The Birds" which will crank out music from bands such as The Eagles and Wings.
What are your favorite spots in L.A.? Share your tips in the comments section below.