STORY HIGHLIGHTS
A road trip in Costa Rica is full of rugged adventure
River crossings, dirt roads and hairpin turns riddle the Nicoya Peninsula
Beaches and cloud forests draw nature lovers to the region
(CNN) -- Driving along a dirt road, I mentally prepared for an event I had been dreading: driving through a river in a car. As we rounded a corner, a view of the river opened out in front of me. There appeared to be a partly submerged pickup, carrying three local men and a dog, blocking my route.
Perhaps I should backtrack. I am a city dweller who drives once or twice a year and am not well-placed to cope with this kind of situation. But after deciding to visit Costa Rica, my wife and I were seduced by the idea of a driving holiday around the sun-drenched Nicoya Peninsula.
It quickly became obvious, even to a complete amateur, that a 4x4 vehicle was mandatory. There are a few good motorways, but around 75 % of the country's roads are unpaved. My guide book even had a section on crossing rivers, which I thought was amusing but not something I had to worry about.
Having never driven a 4x4, let alone a truck, I was apprehensive, though it became an enjoyably cheesy status symbol. We even picked up hitchhikers along the way. Having the flexibility of our own vehicle was a great luxury.
My visions of an unregulated roadway full of cowboy drivers were far from the mark. The car-rental company gave chapter and verse on the complicated system of speed limits, with a maximum of 80 kilometers an hour. We noticed a significant number of police cars enforcing the law as we drove out of the capital. I felt more vulnerable driving around Italy.
Before hitting the beaches, we decided to take a detour to Monteverde, a former Quaker colony and one of the country's best-preserved cloud forests. After leaving the Pan-American Highway, the road became rugged. It was a tough and rewarding drive: The road wound higher into the hills, taking in hairpin bends and precipitous drops. I did the whole journey in second gear. As we drove further inland, the arid countryside grew more lush until we could make out a forest ringed with a thin trace of mist.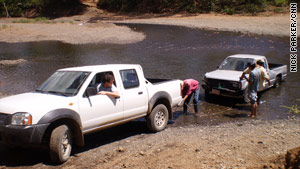 CNN's Nick Parker tugs a stranded pickup out of the water.
Since the 1970s, Costa Rica has been a leading pioneer of ecotourism, creating reserves for its rich natural beauty and attracting a growing number of visitors. Guidebooks say Monteverde's cloud forest was the first place in Costa Rica to feature aerial zip line tours. While there are other locations in the country that are more accessible, it was a priority for us.
At first, I wondered whether it was worth it. We stood outside in constant drizzle as the instructors outlined a series of alarming worst-case scenarios on the high wire. Doubts faded once I was clipped on and suspended on the zip line. It's great fun once you start to move and the sight of steam rising from a verdant forest canopy far below you is genuinely inspiring.
Exhilarated from our treetop adventure, we drove happily to Nicoya along a smooth, palm-lined highway in the sun listening to '70s soul hits on a local radio station. The peninsula has an eclectic mix of tropical beaches interspersed with rocky headland.
Towns such as Tamarindo are pleasant, well-maintained resorts while other spots along the coast feature wild, deserted shorelines. Surfers are drawn to the stunning beaches in the south, where waves break elegantly out to sea along vast coves. But as you travel further south, roads deteriorate.
Our first experience with a river was deeply traumatizing. Despite having satellite navigation, we managed to get lost and found ourselves driving down a remote trail at night, attempting to rejoin the correct main road. Suddenly the trail began to disappear before my eyes to be replaced by a sinister torrent of black water. I looked up to the satellite navigation in despair, and a note casually told me a river crossing was ahead.
We turned the car around and fled.
But it became clear that at some stage we would have to attempt a crossing and soon we faced a wide, vibrant river containing the stranded truck. It wasn't a good omen. With its smashed windscreen and sunken back tires, the vehicle was not built for the terrain, and I began to question whether mine was up to the task.
First we had to pull the truck out. The driver produced some rope, attached it to my bumper and to my great surprise, they slid out of the river bed easily. As they drove away, the bored-looking dog appraised me from the back of the truck.
Next the crossing. I tested the depth of the water, which seemed to be a few feet deep. Having seen a few jungle car chases in movies, my natural instinct was to floor the accelerator and drive at breakneck speed, creating some dramatic waves. Which is exactly what you should NOT do.
The guide book advised a slow, deliberate crawl, and we inched forward holding our breath. Gradually, the wheels submerged but still seemed to grip the slippery bed. As we made it past the halfway mark, the tension began to ease.
Finally, we reached dry land, and I slumped over the wheel in relief.
As with any great fear you overcome, you look forward to doing it again, and each new crossing presented a new challenge with the slim risk of disaster.
We met other panic-stricken tourists who were experiencing their first encounter with a river, including a Frenchman who we discovered walking in the water, shaking his head. I found myself taking on the pretentious air of a battle-hardened veteran dispensing generous advice.
It was an emotional moment returning the truck to the rental company. But as I looked at the mud-covered body and pock-marked tires, I realized maybe spending some time apart would be healthy for both of us.
FOLLOW THIS TOPIC