Gettysburg battlefield adds property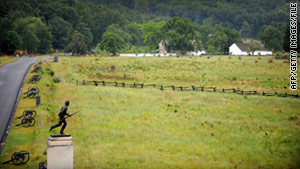 In 1863, Confederate forces were turned back after three days of combat in the Battle of Gettysburg.
STORY HIGHLIGHTS
The Gettysburg battlefield is adding 95 acres
The tract of land was the scene of intense fighting on first day of the Civil War battle
A developer had planned to build housing on the tract
(CNN) -- Ninety-five acres of farm land where young men in blue and gray fought and died during the epic Civil War battle is being added to Gettysburg National Military Park, federal officials said.
Land that once belonged to the now-closed Gettysburg Country Club is where major fighting occurred on the first day of battle on July 1, 1863.
Interior Secretary Ken Salazar on Friday thanked the Conservation Fund and The Civil War Trust for helping to make the department's acquisition of the former Emanuel Harman Farm possible.
"Gettysburg will always have a sacred place in America's heritage for the pivotal role it played in our nation's history and for the enormity of the sacrifice that took place here," Salazar said in a statement. "With the addition of the Emanuel Harman Farm to the Gettysburg National Military Park, we are able to include another important chapter in the story that helped shape our country."
In 1863, the property was part of the historic Harman and Abraham Spangler farms where Confederate Brigades advanced and retreated during an attack on the Union positions on McPherson and Seminary Ridges, according to the National Park Service. The National Park Service has long tried to add the tract.
In the 1950s, the property was developed into the Gettysburg Country Club, which closed in 2008. A developer who bought the property and had planned to build more than 200 housing units agreed to the sale, the Interior Department said.
The purchase price was $1.6 million, according to the Philadelphia Inquirer. CNN left a message with the department Saturday.
The Civil War Trust is pursuing the purchase of three other pieces of the battlefield at Gettysburg, where the Confederate forces of Gen. Robert E. Lee were turned back after three days of combat that included Pickett's Charge.
"Even as we celebrate this great success, we must remember that other vital pieces of the Gettysburg story are still vulnerable," trust president James Lighthizer said in a statement.