Flights canceled after outage to Alaska Airlines' computer system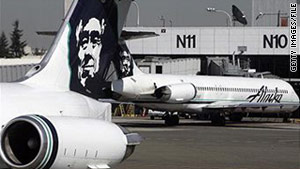 Alaska Airlines jets on the tarmac at Seattle-Tacoma International Airport in a file photo.
STORY HIGHLIGHTS
A transformer blew during work on the system
The airline cancels 15% of its flights Saturday
Spokeswoman says passengers will be accommodated
(CNN) -- The central computer system for Alaska Airlines was knocked out of service early Saturday morning when a transformer blew out, forcing the airline to cancel 15% of its flights, spokeswoman Bekha Green said.
"We are working to restore the computer system and to accommodate our passengers," she said.
Work crews were installing a backup power supply to the computer system when the transformer blew, Green said.
The computer system is used to plan all flights for the air carrier. The outage Saturday caused multiple delays and cancellations within the airline's route network.
A statement posted on the airline's website said technical specialists had made some progress in restoring the system since it first went down at 3 a.m.
CNN's Greg Morrison contributed to this report