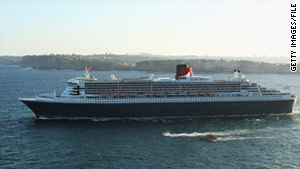 Cunard's Queen Mary 2 was headed to Nagasaki Friday after the devastating earthquake.
STORY HIGHLIGHTS
Relatives anxious to speak with cruise passengers in the Pacific

Holland America, Royal Caribbean and other lines say ships are safe

Tsunamis are less dangerous in the open water away from shore, expert says
(CNN) -- Friends and family are anxious to connect with cruise passengers in the Pacific as tsunamis spawned by Japan's massive earthquake roll through the ocean.
Meanwhile, cruise lines are checking in with their ships, and experts say the open seas are the best place to be if you're on a ship in a tsunami-threatened region.
Christine Vella's father left Hawaii two days ago aboard Holland America's Zaandam. He is somewhere between Hawaii and Mexico, but Vella hasn't been able to reach him.
"I'm sure everything's OK, but I'll feel much better when I hear from him," Vella said.
Holland America told Vella it had contact with the ship, which was not affected by tsunamis triggered by the devastating 8.9-magnitude earthquake in Japan.
"All Holland America Line ships and guests are safe and have not been impacted by this sad event. Guests onboard ships in nearby areas are being updated and reassured," Holland America spokeswoman Sally Andrews told CNN via e-mail.
Holland America and other cruise lines have also been using social media sites to post updates and communicate with concerned relatives.
Tsunamis are likely to go completely unnoticed by passengers on ships on the open seas, according to Richard Burke, professor and chairman of engineering at the Maritime College of the State University of New York.
In the open water, the energy in a tsunami is distributed across its very long wavelength. But while a ship at sea might not feel a tsunami pass, the effects for ships at port when a tsunami hits can be devastating.
"As it moves into shallow water, essentially it stacks the wave up. The length becomes shorter, but the wave height becomes much larger and now you have a very tall, high-energy wave that's very dangerous," Burke said.
Friday's earthquake prompted the U.S. National Weather Service to issue tsunami warnings for at least 50 countries and territories.
The Azamara Quest, which was docked in Nagasaki, Japan -- hundreds of miles from the earthquake's epicenter -- was not directly impacted by the disaster.
"No Royal Caribbean, Celebrity or Azamara ships have been directly affected by the earthquake, or by the subsequent tsunamis," said Royal Caribbean spokeswoman Cynthia Martinez in a statement.
The Azamara Quest departed Nagasaki Friday as scheduled.
Cunard's Queen Mary 2 is en route to Nagasaki, according to Cunard's website.
"Weather in the area is calm and it is unlikely that the sea area and route the ship is on will be affected by any aftereffects of the earthquake. The Commodore has made a broadcast to our Guests and staff advising them of the situation and he has walked the decks and all is calm on board," the cruise line's website said.
In Hawaii, Norwegian Cruise Line's Pride of America left port in Kauai early to get back to open water where conditions were safe for the ship, according to the company's website. The ship was expected to return to Kauai after the tsunami threat passed.
Vella and others are anxious to know when the threat has completely passed.
"I wrote on my father's Facebook page that when he gets home, he's grounded!"