STORY HIGHLIGHTS
BP has finished cleaning oil from Orange Beach and Gulf Shores tourist beaches
As many as 250,000 visitors may flood in for spring break
Area caters to families, not college party crowd, official says
Hangout Music Festival in May, National Shrimp Festival in October bookend summer
Gulf Shores, Alabama (CNN) -- After the BP oil spill left tar balls on the beach and rental properties sitting empty, Gulf Shores, Alabama, is cleaned up and ready for company.
BP recently completed a major cleaning operation, scooping up virtually all of the sand on 32 miles of beaches to varying depths and running it through giant mechanical sifters before putting it back in place.
Think of scooping out your cat's litter box, times a zillion.
Work continues at the far western end of the peninsula, near historic Fort Morgan, but popular swimming beaches are good to go, said Grant Brown, the city's director of recreation and cultural affairs.
"The white sand is as white as it's ever been. It's probably as clean as it's ever been," he said.
Some significant tar mats remain offshore on the Gulf bottom, and the city continues to work with BP and state and federal officials to monitor them, Brown said.
"We have specially trained reconnaissance teams that patrol the shoreline looking for any signs of tar balls, and if we find any, we will still have locally based response teams and equipment ready to rapidly clean the area," Mike Utsler, chief operating officer for BP's Gulf Coast Restoration Organization, said in an online Q&A.
But for now, Gulf Shores' arms are wide open for vacationers.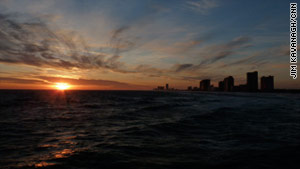 Gulf Shores expects about 250,000 spring break visitors.
Gulf Shores' population is more than 9,000, and another 5,000 call adjacent Orange Beach home. However, the area welcomed almost 15,000 "snowbirds" -- winter-long visitors, mostly retirees from the north -- said Kim Chapman, public relations manager for Gulf Shores and Orange Beach Tourism.
Snowbird numbers were down about 15% from last winter, but those who did come seem to be more active, Brown said.
And just as they leave town, here comes the spring break crowd -- about 250,000 strong, according to Alabama Gulf Coast Convention and Visitors Bureau statistics -- starting March 16.
Gulf Shores and Orange Beach tend to draw families during spring break, not the hard-partying college crowd, Brown said. And local businesses can't wait.
"Lulu's and other bigger restaurants are hiring. People are gearing up," Brown said.
"There's a better feel. People are preparing for people. Last summer there was none of that."
Spring booking numbers started slow but have increased lately to match last year's level, he said.
When they're not frolicking on the beach, visitors can walk the Gulf State Park Pier, at 1,540 feet the longest pier on the entire Gulf Coast. It's a great spot for watching sunrises and sunsets or fishing 24 hours a day. Fees for sightseers run $2 to $3 per person; daily fishing permits are $8 for adults.
The summer tourism season will kick off with the second Hangout Music Festival May 20-22. The festival on the beach in the heart of Gulf Shores features big-time acts including The Black Keys, Paul Simon, Cee Lo Green, Foo Fighters, Widespread Panic and more. Three-day passes start at $174, and a payment plan is available.
The season wraps up with the 40th Annual National Shrimp Festival, October 13-16. Besides locally caught shellfish -- which Brown says have been thoroughly tested and found safe to eat -- the festival will feature live music, arts and crafts vendors and a sand castle building contest.
FOLLOW THIS TOPIC