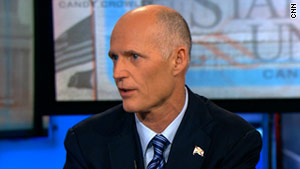 Florida Gov. Rick Scott has been opposed to the proposed high-speed rail line between Tampa and Orlando.
STORY HIGHLIGHTS
Florida Supreme Court rules that Gov. Rick Scott can reject federal funding
U.S. Transportation Secretary said he knows other states want the extra funds
Florida's governor says the $2.4 billion could be better used for other projects
Gov. Rick Scott says cost overruns are a major concern, along with operating costs
(CNN) -- The Florida Supreme Court ruled Friday that Gov. Rick Scott can reject $2.4 billion in federal money that would have funded a proposed high-speed rail system in the state.
The governor had made clear that he would reject the money, but two state senators -- a Democrat and Republican -- took him to court over that decision. They argued that he would overstep his executive authority and violate Florida's constitution if he did not accept the money, but the state's high court disagreed.
The court decision clears the way for Scott's administration to focus on projects other than high-speed rail, the governor's spokesman, Brian Burgess said.
"The governor is gratified that the court provided a clear and unanimous decision," Burgess said. "He is now focused on moving forward with infrastructure projects that create long-term jobs and turn Florida's economy around."
Scott had consistently opposed plans for an 84-mile-long high-speed rail line that would link Tampa and Orlando.

Explainer: High speed rails worldwide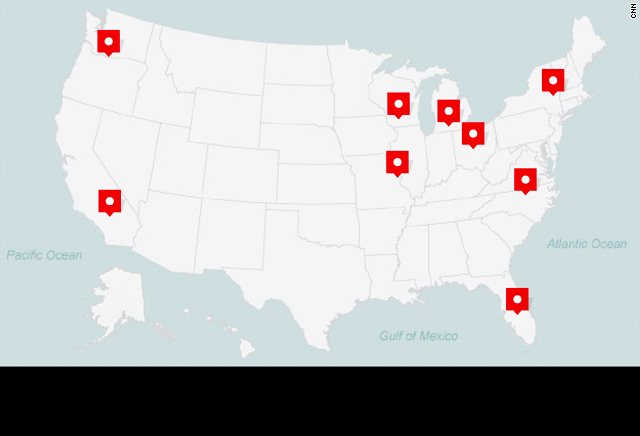 Map: Proposed high speed rails
After meeting with Scott last week, U.S. Transportation Secretary Ray LaHood had set Friday as the deadline for accepting the federal dollars to help pay for the project. Otherwise, the money would be redirected to other states.
The loss of the Florida project is seen by some as a direct blow to President Barack Obama's vision for a national high-speed rail network.
"I know that states across America are enthusiastic about receiving additional support to help bring America's high-speed rail network to life and deliver all its economic benefits to their citizens," LaHood said after speaking with Scott on Friday.
In 2009, the legislature created and funded the Florida Rail Enterprise to oversee the high-speed rail line. But in oral arguments before the court on Thursday, an attorney for the governor said no laws were violated.
The governor had stuck to his guns in recent weeks when questioned about his reasons for derailing the project.
"Our taxpayers aren't going to take the risk of the cost overrun of building it," according to Scott, who said the tab for the project could total $3 billion.
He had also expressed concerns about long-term operating costs.
"We already have a train that goes from Palm Beach to Miami," Scott said Sunday during in an interview with Candy Crowley on CNN's "State of the Union." "Only one-sixth the cost of operations is covered by the fares."
But leaders in several of Florida's cities say they've eliminated all risk to taxpayers.
"We have addressed all of the governor's concerns," said Tampa Mayor Pam Iorio. "We have structured this so that if there were cost overruns the private sector would take care if it."
Iorio, along with the mayors of Orlando, Lakeland and Miami, signed an agreement that calls for local authorities to take over the project with the help of the private sector. They presented their plain to Scott Wednesday.
"If there are operational short falls -- private sector. This is a true public-private partnership," Iorio said. "This is what governors all across the country want and we had structured this in such a way that there would not be risk to the Florida taxpayers."
Scott's office did not respond to CNN's request for a comment on the agreement.
Scott has said that he believes there would be a greater long-term benefit to the state if the money were used for other infrastructure projects.
"I want the money for our ports," he said, noting the expansion project now underway at the Panama Canal and the growth of economies in Central and South America. "Put that money into the Florida ports. That's where we want that money spent."
But LaHood said the funds were specifically allocated for high-speed rail and can't be switched to other projects.
Proponents of high-speed rail said they believed that Florida was the ideal location for an inter-city system. The Tampa to Orlando project would be the first leg in a line that advocates hope to extend to Miami and eventually Jacksonville in the north of the state.
"Here we have the most viable high-speed rail project in the country," said Petra Todorovich with The Regional Plan Association, a transportation and public policy think tank in New York. "It has over 90 percent federal funding to get started. It has a team of private investors who are interested in covering the remaining capital costs and assuming the risks on ridership."
In theory, local municipalities could continue with the project regardless of whether the governor supported it, but that's not considered likely.
Iorio said they can't get it done without the expertise of the state's transportation department -- an agency the governor could order not to get involved.
CNN Radio's Steve Kastenbaum contributed to this report.
FOLLOW THIS TOPIC