STORY HIGHLIGHTS
Iconic airline is the focus of a TV drama that may debut this fall on ABC
"Pan Am" will be set in the 1960s, drawing comparisons to "Mad Men"
Show's executive producer worked as a Pan Am flight attendant for eight years
Accessories with the Pan Am logo are still popular with travelers
(CNN) -- You can't fly it anymore or see its famous logo at the airport, but the airline that came to symbolize the glamour of the heady early days of air travel is a hot commodity once again.
Pan American Airways -- known to travelers around the world simply as Pan Am -- may be heading to the small screen as the setting for a nighttime drama about flight attendants working for the iconic carrier in the 1960s, when flying was the domain of the rich and famous.
The characters are fictional, but "Pan Am" the series -- a pilot for which has been ordered by ABC -- will draw on the experiences of executive producer Nancy Hult Ganis, who was herself a stewardess for seven years.
"It was the most amazing time of my life," Ganis said. "It was a great, fun job."
Her career started unexpectedly in 1968 when Ganis, then a 21-year-old student teacher in Detroit, walked past a Pan Am office and was intrigued by a poster that read, "Our stewardesses know their way around the world better than most people know their way around the block."
On a whim, Ganis walked in and signed up for an interview. When she showed up at the appointed time the following week, she was shocked to see hundreds of women vying for the same job.

Gallery: When flying was fun
Looks were important, but the airline flew only international routes, so it also needed people who spoke a foreign language and could serve as its ambassadors to the world, she said.
Ganis, who studied French and traveled as a young girl, was a good match, and a few weeks later, she was invited to report for work in Miami.
"I was only going to do it for a year, like everyone, but it was just too exciting," Ganis said.
"It was in a time when very few people in the U.S. even had passports. So suddenly, it was just this exciting adventure, and I really wanted it."
Gadling: How Hugh Hefner traveled in style

Subtle and blatant advances
Ganis flew all over the world, hopping from continent to continent while serving travelers in style.
It was before the era of private jets, so Pan Am's customers included royalty, dignitaries and many, many celebrities. Ganis remembers seeing John Wayne, Eric Clapton, Andre Previn, and Sly and the Family Stone on her flights.
She had lots of time off and free passes to fly anywhere she wanted, so she pored over maps to figure out where to go. To help pick a place, she would often simply ask herself: Where have I not been yet?
The excitement of the era even got the Steven Spielberg treatment in "Catch Me if You Can."
A man who had had too much to drink wandered into the galley and thought he was entitled to more than his drink.
--Nancy Ganis, former flight attendant
But there was also a darker side to the job. When asked whether she was ever treated as a sex object by passengers, Ganis was quick to answer.
"Oh, yes. Sometimes it was subtle, and sometimes it was really blatant," she said.
One of the more blatant incidents happened when she was preparing passengers' meals during a flight.
"A man who had had too much to drink wandered into the galley and thought he was entitled to more than his drink, and I set him straight," Ganis recalled. She plans to include the experience in the ABC series.
The show is already drawing comparisons to "Mad Men," another drama set in the 1960s, but Ganis calls it "Anti-Mad Men." The women in "Pan Am" decide not to confine themselves to a job in the secretarial pool but rather seek to break out of the confines of a misogynist society by going off to see the world, she said.
The Hollywood Reporter reports that actress Christina Ricci is in talks to star in the project. If all goes well, the series will debut this fall, Ganis said.
"Passion and love" for the brand
But television is not the only place the Pan Am brand has popped up in the two decades since the once-great airline collapsed into bankruptcy.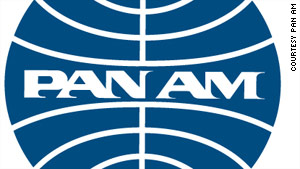 Accessories with the iconic blue and white Pan Am globe logo are still popular with travelers.
If you've never forgotten your first flight on Pan Am or were so enamored with the experience that you kept the drink stirrers with the famous logo on them from the trip, you can get your Pan Am fix online.
"It's a feel-good brand. Everybody remembers the glory days of travel in the jet age, when everything was innovative and exciting and brand new, and you dressed up to travel," said Stacy Beck, a spokeswoman for Pan Am Brands.
The company runs an online store where you can buy bags, T-shirts, model planes and even cufflinks adorned with the Pan Am logo. The biggest seller is a replica of the classic blue and white bag the airline used to give out to passengers, Beck said.
Pan Am Brands is part of Pan Am Systems, a Nashua, New Hampshire, company that bought what was left of the airline in 1998. It now owns Pan Am Railways and other transportation-focused companies. It also licenses the famous name to projects such as the upcoming ABC series.
The Pan Am store opened for business in 2007 after executives realized that there was still a lot of "passion and a love" for the brand, Beck said. Shoppers include young people who find the logo "hip and cool and retro," she added.
YouTube: Take a nostalgic look back at Pan Am
Fans of the airline who want to find out more about its history and memorabilia can also check out sites like The Pan Am Historical Foundation, the Virtual Pan Am Museum and PanAmAir.org.
Glamour and luxury
That's a lot of love for an out-of-business carrier, but as the U.S. Centennial of Flight Commission put it, "there is no airline more influential, important, and better known than Pan American Airways."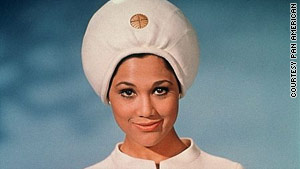 This is how Stanley Kubrick envisioned Pan Am flight attendants of the future in "2001: A Space Odyssey."
The panel noted that when Stanley Kubrick produced "2001: A Space Odyssey," he envisioned Pan Am as the carrier that would take humans regularly into space.
But a recession, deregulation and massive financial losses forced the airline to shut down in 1991. The carrier also never recovered from the 1988 bombing of Pan Am Flight 103 over Lockerbie, Scotland, that killed 270 people.
There were several attempts in later years to resurrect the airline, but none was successful.
Asked whether there are any plans to try again, Pan Am Systems was tight-lipped. The company would say only that it is always "investigating opportunities to improve and expand the scope of its transportation holdings."
For now, you'll have to settle for watching the show.
FOLLOW THIS TOPIC