Airline with club atmosphere to serve Las Vegas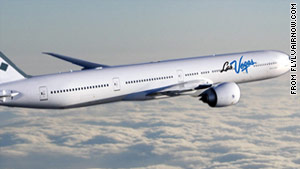 LV Air hopes to attract more gamblers from the Northeast to Las Vegas, Nevada.
STORY HIGHLIGHTS
LV Air hopes to start service this fall between New York and Las Vegas
Airline promises to offer mood lighting, club music and celebrity hologram safety briefings
"It'll be a very festive atmosphere," a company spokesman says
(CNN) -- Mood lighting, club music and pre-flight safety briefings from virtual celebrities: Gamblers may soon have a swanky new way to arrive in Las Vegas, Nevada.
LV Air, a new airline that hopes to start service this fall with four daily nonstop flights between the gaming capital and New York's John F. Kennedy International Airport, promises to bring a bit of Sin City fun and luxury on board.
"When you enter the aircraft, it will seem as if you're entering a club. ... It'll be a very festive atmosphere," said Sean Smith, LV Air's chief marketing officer, describing dark blue and purple lighting in coach class, and club music pulsating from the speakers of the chartered Boeing 767s.
The first-class cabin will feature 18 flat bed seats and will be decorated by one of the airline's still-unnamed casino partners, so high-rollers may find themselves in a Bellagio- or Venetian-inspired décor, Smith said. They'll also be able to munch on "upscale meal packs" prepared by Las Vegas restaurants.
The airline promises in-flight inter-seat texting and video, iPad personal movie viewers and "hologram safety briefings from your favorite Vegas celebrities." So a virtual image of Mike Tyson may instruct you what to do in the event of an emergency, Smith said.
The company is hoping to attract stars such as the Blue Man Group, Celine Dion and Carrot Top for the project, but Smith declined to comment on whether any celebrities have been booked yet.
The airline also promises that passengers won't have to bother with the baggage carousel at the airport. The company's "direct to room" luggage service will deliver their bags straight to their suites. Passengers will also be able to check in for their flight at the airline's hotel partners.
LV Air is negotiating with all of the major casinos on the Las Vegas Strip to become partners, but Smith declined to mention which, if any, have signed up so far.
The goal of the new airline is to attract more gamblers from the Northeast, Smith said.
"Seats to Las Vegas have been drastically reduced over the last three years by the major airlines. So we think we're filling a hole in demand, I think there is built-in demand in the market place at this moment," he said.
About 20,000 seats per day have been cut from the Las Vegas market since 2008, CNN affiliate KTNV reported.
Las Vegas casinos will have the first option to book their players on LV Air flights. Ticket prices in coach class will be comparable to those on major airlines, but first class will "probably be somewhat of a premium," Smith said. He declined to name any specific figures.
FOLLOW THIS TOPIC