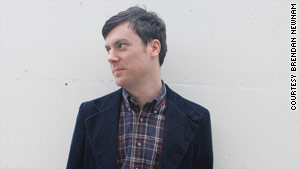 Lifelong traveler Brendan Francis Newnam says he's suffered from wanderlust since he was a child.
STORY HIGHLIGHTS
In new column, Brendan Francis Newnam will share his adventures traveling U.S.

Newnam prefers the not-so-obvious; he's a sucker for roadhouses and old hotel bars

He says traveling and reading about travel answers the question: "Who the hell are we?"
Brendan Newnam hosts a national public radio show called The Dinner Party Download produced by American Public Media. He's the author of a new CNN.com travel column called "The State I'm In." Follow him on Twitter @bnewnam.
(CNN) -- Whenever I stumble across a new travel columnist, I think one thing: "Who the hell are you?"
That gut reaction is usually followed by the more measured, "Who does this clown know that he gets paid to gallivant around the world eating, drinking and doing cool things, and call it work?"
This is usually followed by a quick scan of the article for a sloppy sentence or grammatical misstep that I can read aloud to my girlfriend in a mocking voice so as to deride the author and make myself feel better.
I'll wait while you pick a sentence to read to your partner.
Of course, I'm lucky to have this gig. But lest you think I got it because I went to college with a CNN.com boss' daughter, let me share a bit of my travel history.
I've suffered from wanderlust since I was a child. Perhaps it's the result of being the grandchild of immigrants who found a better life by traveling somewhere else, or (more likely) because when I was a kid, traveling meant not having to go to school or do house chores.
Either way, by the time I checked out Jack Kerouac's "On the Road" from my high school library, I was looking for any excuse to zigzag all over the U.S., and I found one. "Live, travel, adventure, bless, and don't be sorry," Kerouac said. Well, I didn't have to hear that twice.
Since then, I've set my watch by Old Faithful's eruptions and dived through trash bins under the noses of presidents at Mount Rushmore. I've cracked up a pickup in South Carolina, busted a radiator in West Virginia and snapped a CV joint in Wyoming. I've lived in a tepee in the Badlands, hot-tubbed in the Mojave and eaten 12 bologna sandwiches on the train from Milwaukee to Seattle.
I've brawled in Madison, slept in a projection booth in a movie theater in rural Illinois, bowed my head at the site of the Oklahoma City bombing and missed the last ferry back to the mainland while foraging for mushrooms on the San Juans.
I've eaten like a bear in Louisville, and been stalked by a bear in Montana. I've pumped gas under the Space Needle, waited tables by the Mammoth Hot Springs, built decks in Dayton and baked bread in Charleston.
I've karaoked in Asheville, chanted in Philadelphia, appeared in court in North Dakota, made wreaths in Olympia, sunned in Malibu, played a concert in Boston, eavesdropped in Savannah and happy houred in Cleveland.
But I spent most of the time admiring all the places in between. Sometimes, when shutting down for the night, I stare at the worn heels of my shoes with a strange romantic pride. I'm not sure what I'm searching for in all of these places, but, boy, do I like looking.
So I guess I'm as qualified as anybody to write a travel column about the U.S. I even have some relevant "work" experience: from an early gig writing European travel guides to my current role as host of a public radio show called "The Dinner Party Download" -- where I get paid to eat, talk to interesting celebrities and attend free movie screenings -- I'm used to the difficult task of living the good life professionally.
A few more things: I'll be footing the bill for most of these adventures, which means I'll be riding coach, hoarding free peanuts and crashing on friend's floors at every opportunity.
Travel isn't for the rich alone; it's for whomever is curious and resourceful. Now, sure I might go posh now and again, but the name of the column is "The State I'm In," not "Day Spas and Fancy Restaurants." And I won't be accepting freebies or discounts because that would violate my journalistic code of ethics: 1) Be objective 2) Be skeptical 3) Be poor.
That said, I'm not unbiased. I prefer the not-so-obvious over the obvious. I'm a sucker for roadhouses and old hotel bars. I like the basics and I like the best, but I have a low tolerance for the mediocre in between.
I do have a high tolerance for hearing the wisdom of strangers so I encourage you to send in tips or corrections.
So that's who the hell I am and what I'm doing here. I'll leave you with a quote from one of America's finest travelers, Mark Twain: "Travel is fatal to prejudice, bigotry and narrow-mindedness."
In other words, travel and reading about travel can help us learn about our country, and it can maybe help us answer an important question about ourselves: "Who the hell are we?"
FOLLOW THIS TOPIC