Former airline agent admits scamming travelers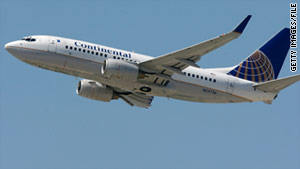 A former Continental Airlines agent admitted selling fake travel vouchers.
STORY HIGHLIGHTS
Victoria Scardigno collected about $1 million from a fraudulent voucher scheme

The former airline agent sold fake travel vouchers for $500 to $600 each

Scardigno faces up to 20 years in prison

(CNN) -- A former Continental Airlines sales agent pleaded guilty Tuesday to a $1 million fake voucher scheme that could result in a maximum of two decades in jail.
Victoria Scardigno, 33, of Weehawken, New Jersey, sold more than 2,000 fake travel vouchers for $500 to $600 each, according to the U.S. attorney's office in the Southern District of New York. Scardigno pleaded guilty to one count of wire fraud.
"Victoria Scardigno's low-rent Ponzi scheme took advantage of unsuspecting air travelers who thought they were buying vouchers for plane tickets when they were really buying worthless pieces of paper," Manhattan U.S. Attorney Preet Bharara said in a statement.
"Now the only trip she will be taking is to federal prison," Bharara said.
Scardigno deposited more than $1 million in her personal bank account from the sale of fake vouchers for round-trip tickets anywhere in the world, according to court documents.
The vouchers, which the airline uses to compensate customers in cases of bumping for overbooking and other inconveniences, were taken from Continental Airlines offices. Scardigno was a sales agent for the airline at Newark Liberty International Airport in New Jersey.
Scardigno sold the vouchers over about an eight-month period in 2009, authorities say. To keep the scheme going, Scardigno purchased real airline tickets for some voucher holders using her own credit card, other people's credit cards or cash, according to an affidavit from an FBI special agent who investigated the case.
But the purchase of real tickets, which were far more expensive than the false vouchers, soon became too costly, and Scardigno was no longer able to keep up with the demand for tickets from voucher holders, the affidavit said.
Continental terminated Scardigno's employment in late 2009 after an internal investigation, according to court documents.
In addition to buying $587,000 worth of airline tickets with her credit card, Scardigno spent approximately $15,000 at Louis Vuitton stores and more than $700 at Coach stores, authorities say.
Scardigno will have to pay restitution to the victims of the fraudulent scheme and faces a maximum sentence of 20 years in prison.
FOLLOW THIS TOPIC