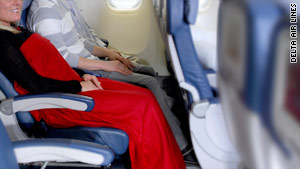 Delta's new premium economy offering will give passengers more legroom.
STORY HIGHLIGHTS
Premium economy service varies widely from airline to airline

The primary benefit from U.S. carriers is more legroom

International airlines tend to offer more added benefits, including better food

Editor's note: Brett Snyder writes a weekly CNN.com travel column. Snyder is the founder of air travel assistance site Cranky Concierge, and he writes a consumer air travel blog, The Cranky Flier.
(CNN) -- "Premium" is a pretty hazy concept in the airline industry.
A flat bed is obviously a premium experience, but some airlines are putting just a couple of extra inches of legroom into that category as well. That seemingly un-premium experience refers to the increasing number of "premium economy" seats that airlines have introduced over the last several years.
Delta's recent announcement of its own stepped-up economy class raises the question: What's premium economy, and is there a real benefit?
The idea behind it makes a lot of sense. As airlines have raced to add flat beds, swankier amenities and more personal space in business class, economy has pretty much stayed the same, at best. So the gap between business and economy has grown to cavernous proportions.
And that space opened the door for a new option for people who want more than they get in economy but are unwilling to take out a second mortgage to sit in business.
But "premium" economy can mean a lot of things, depending on the airline you're flying. Generally, for U.S.-based airlines, premium economy really means a little more legroom with a few amenities thrown in for kicks.
The most well-known is United's Economy Plus, which gives up to 5 extra inches of legroom as its sole perk. JetBlue's Even More Legroom is similar, and its name should win a prize for truth in advertising. Delta's new Economy Comfort now joins that category on international routes this summer, throwing in more seat recline, early boarding and complimentary alcoholic beverages as well. Delta's new service runs an additional $80 to $160 one way.
Snyder: Why airline fees are good for travelers
Internationally, premium economy tends to be more like "business minus" than "economy plus." You'll find it on airlines like Japan's ANA, British Airways, Taiwan's EVA Air, Qantas, Turkish, Virgin Atlantic and more. All of those airlines offer wider seats with leg rests. You'll also generally receive upgraded service, in some cases with the same meals as business class.
Of course, the difference in product offerings means that prices vary widely. Economy Plus on United can start at an additional $18 roundtrip for a short hop and go beyond $200 for a long international trip.
On foreign airlines, the better product costs way more than that. Picking random dates in June, New York-to-London looks like it's running about $750 more for a roundtrip in premium economy on British Airways and Virgin Atlantic. I've seen much larger premiums, depending on the time of year, availability and, presumably, the position of Jupiter in the evening sky.
The biggest problem with adding this new class of service is that it makes fliers do a lot more work to figure out which option is best. For example, if you're flying from Los Angeles to London, you have five different airlines on the route and four with premium economy offerings. You could just go by price, but then you would probably end up in United's Economy Plus, a far inferior offering compared with what's offered by British Airways, Virgin Atlantic and Air New Zealand.
Air New Zealand is an interesting case in that it recently poured a ton of money into premium economy service to create a new seat that is unlike anything you'll find on other airlines. The seats on the side are angled toward the window but are offset so you don't have to share your space with the person next to you. On the other hand, the seats in the middle are designed so that people traveling together can share their space to create a larger area in which to relax. So you're comparing apples and oranges when you throw Air New Zealand's unique seats into the mix.
You also can't trust that a single airline will offer the same type of premium economy on its entire fleet. Finding a premium economy seat on a short flight is rare except for on United and JetBlue. On long hauls, airlines like British Airways and Air New Zealand are in the process of refurbishing their offerings, so it's a matter of doing some research and sometimes just rolling the dice to hope you get the improved experience.
Possibly the most confusing of all premium economy offerings comes from Air France/KLM. Even though the two airlines are owned by the same parent company, Air France offers Premium Voyageur, which has a wider seat with leg rests and more. KLM, however, offers Economy Comfort, with just the couple of extra inches of legroom that Delta is adding. Be careful if you book a codeshare between these partners, because you might end up with an unpleasant surprise.
In the end, premium economy can make life far better on a long flight, even for a short guy like me. You just need to make sure to do your homework before you buy to ensure that you're not disappointed when you get on board.