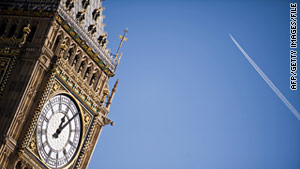 As fuel costs rise, so does airfare. But flexibility and planning ahead can save money, experts say.
STORY HIGHLIGHTS
Rising fuel costs have made international air travel more expensive, analysts say
Shop five months ahead for the best summer deals, expert says
Make sure to include all those extra airline fees in your travel budget
(CNN) -- Soaring airfares have some travelers worried they'll stay grounded this summer.
CaSandra Minichiello, 37, said getting away from her home in Clarkston, Georgia, is difficult to imagine when international flights -- nearly identical to those she booked in recent years -- are hundreds of dollars more expensive.
"In 2008, I went to Rome for about $1,200, but those prices have grown by about $500 for the same time frame," she said. "I'm disappointed, a bit angry. I understand that economic factors cause a lot of price increases, but it just seems like regardless, people want to travel and will usually fork up the extra costs. It's almost like the airlines are taking advantage of that."
There's no denying airline operating costs have gone up.
"The cost of refining oil has doubled in the past two or three months," said FareCompare.com CEO Rick Seaney. "When the cost of fuel rises, so do surcharges and ticket prices."
This month, British Airways, Singapore Airlines, Australia's Qantas Airways and other international carriers raised fuel surcharges on flights abroad by as much as $200. Smaller increases -- from $4 to $10 -- have been added by American carriers on domestic routes.
A rise in consumer demand -- coupled with airline reluctance to reinstate seats dropped during the recession -- also contributes to more expensive fares, Seaney said.
"Unless you have a crystal ball," he said, "no one can determine where these prices will cap."
Inflation, shifting economic conditions and unrest in the Middle East played a pivotal role in the latest fuel cost spikes, said Steve Lott, a spokesman for the International Air Transport Association.
"Turmoil in Egypt and fears of a domino effect on other oil-producing states in the region drove crude oil prices more than $20 higher than the 2010 average," he said.
With so many uncertainties in the industry, consumers are faced with a travel conundrum: How do you book an international ticket without breaking the bank?
"It's really simple," Seaney said. "You have to have some flexibility. Airlines dream about passengers who have to leave on a certain day without any choice."
Understanding the travel seasons is crucial to saving money, he said. Specific times of the year -- or days of the month -- drain your wallet more than others.
"You can fly to Europe one day in late March, or pay $200 more the next day," he said. "You'll save money if you avoid flying on holidays and the peak of summer."
Timing the ticket's purchase is equally important, Seaney said.
"If you're shopping for summertime, start shopping five months before departure," he said. "That's when airlines manage cheapest seats actively."
For international travelers, considering a "predestination" is a proactive way to cut costs.
Flying into Zurich, Switzerland, or Munich, Germany, may be cheaper than a direct trip to Paris or London, Seaney said.
From there, train tickets and low-cost European airlines such as easyJet and Ryanair serve as bonus sightseeing vehicles to a traveler's target city.
Jason Clampet, a Frommer's editor, said airline research, or checking for every possible fee after ticket cost, is essential after a traveler has decided on a date, carrier and destination.
"The important thing is figuring out the real price of your flight," he said. "Popular travel sites like Expedia and Orbitz don't always show you how much a flight will cost you after taxes, mandatory fees, baggage and so on."
Internet advertisements promising a "$399 trip to London!" are often misleading, he said. It's up to the traveler to ask the right questions such as: Is this deal one way? How much are taxes, really?
"When you start looking for airfare, don't buy the first rate you see," Clampet said. "If you want to ski in the Italian Alps, find out how much it'll cost to bring two bags. Find out about surcharges. Oftentimes travelers will think they have a deal and still come home broke."
On international trips, overweight baggage fees fatten the travel bill. Clampet said those looking to fly abroad need to make sure suitcases remain lighter than the airline's weight limit.
"It all adds up pretty quickly," he said. "Weight limits have gone down in recent years. If you exceed X amount of pounds, suddenly you're slapped with a $75 fee."
But travelers need not fear the seemingly endless list of additional costs. Clampet said unnecessary charges can be avoided with planning.
"Airlines don't always make it easy, but you can find out all the extra information by asking," he said. "Just remember the cheapest flight that pops up on your search engine might not be the cheapest flight."
FOLLOW THIS TOPIC