STORY HIGHLIGHTS
Oregon's Bandon Dunes Golf Resort offers four courses

Southern Oregon's rugged coast provides a dramatic backdrop for golf lovers

The author finds ample challenge on the newest course, Old Macdonald
Bandon, Oregon (CNN) -- I need to get back to Bandon Dunes and settle a score with Hell Bunker, an infernal sand pit 12 feet deep and big as, well, hell.
It would've been too easy just to bunt the ball around it, too prudent to try to clear it with two short pokes rather than risk one all-or-nothing blast.
The big blast cleared the pit, alright, but then the ball ticked the bunker's far lip. It popped straight up and did a back dive into Hell.
Truth be told, we golfers are drawn to such dramatics, and the courses at Bandon Dunes Golf Resort own that stuff in spades.
No pool, no tennis, no yoga. No golf carts! A Bandonista might say no nonsense. Bandon is golf and only golf, a linksy, windy, wilderness golf that has a strange way of stirring the soul.
Bandon Dunes is the dream of Chicago entrepreneur Mike Keiser. Keiser made a fortune in the greeting card business, but when he started clearing gorse along the coast of southern Oregon, more practical-minded types figured he'd lost his business sense if not his mind. Who was venturing way out there to play golf?
Then there was Keiser's notion of golf, itself, as a game best played across springy terrain neither leveled nor otherwise dulled, a game of unpredictable bounces, of shots that roll and roll whether headlong toward disaster or perhaps even redemption.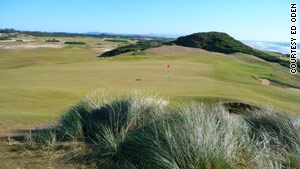 Old Macdonald is the resort's newest course.
But Keiser didn't get rich not knowing his target audience, and golf connoisseurs began belting out Hosannas from the day the first ball was struck. David Fay, former executive director of the United States Golf Association, recently declared Bandon Dunes "the epicenter of golf on planet Earth."
Since Bandon's autumn winds have a habit of sleeping late, it seemed auspicious to be teeing off early at the eponymous Bandon Dunes course. My partners were Dave Wilson, a real estate investor from Denver, and his friend Billy Whitaker, an oil and gas guy.
Billy and I quickly developed a penchant for finding the course's more challenging corners, and as the two of us strolled toward the stout seventh green we found our balls waiting in a deep, grassy swale. The green being far above us, Billy's excellent caddy, Sarah, clambered up to give us a bearing.
I conjured up a wedge shot with all the depth and nuance of, say, Barney in plus-four knickers. Billy overflew the green into a tangle of bracken. From there he batted his next effort back across the green and back down into the swale. Sarah didn't say a word.
It went a lot like that. But as the course led us out along hundred-foot cliffs and a gentle fog rolled in, as gulls swooped and beach grass swayed, it was hard not to feel serene. Real worries had long since vanished.
Since the sun does set on Bandon, other needs arise. The food at Bandon Dunes, like the golf and the lodging, is not inexpensive, and I'll confess to having driven into town one night and availing myself of cheap fast fare at the only local burger chain. The town's tidy wharf offers livelier options, including crab caught down at the docks.
At the resort, McKee's Pub is not painfully budget unfriendly, and its Bandon cheeseburger is hearty, as is the half roast chicken. I give the busy chicken and dumplings a gentleman's bogey.
For golfers who travel in groups, Bandon offers cottage rentals. Rooms at the Inn (starting at $240/per night during high season) are simple and well-appointed, and are spacious enough that the chance of draining a putt of door-to-window distance is maybe one in 10.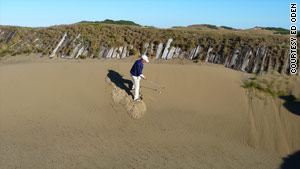 Old Macdonald's Hell Bunker is inspired by a course at St. Andrews in Scotland.
A relaxing routine after 36 holes is to soothe tired bones in the Jacuzzi, then plop down at any of several cozy bars, or with a book by an outdoor hearth.
But we're here to play golf and above all, to play Bandon's newest course, the one with the odd name, a course that already in certain circles has attained status bordering on the mythical.
The first two holes at Old Macdonald portend distinct promise, but let me go ahead and say I have never seen a golf hole quite like the third one at Old Mac. The drive must clear a Promethean sand ridge, sort of a mountain range in miniature, and one can only take it on faith that a hole lies somewhere beyond it.
Upon cresting the ridge, it is hard to say which is more thrilling: the sight of one's ball having found a place in the fairway, or the view that lies beyond.
For down below the dune, with the ocean off in the distance, Old Macdonald unfolds in all its glory across an expanse of staggering scale, a rumpled basin pocked by gorse and dotted by brownish bunkers seemingly gouged from the soil. Enormous greens rise up, one a hulking, blunt mass, a shape so far-fetched as to challenge the notion that humans conceived it, not eons of tides. Another green seems to seize the whole horizon, its wild undulations suggesting a dinosaur burial ground.
It is a startling thing to see, a links so brazen in its boldness, and one begins to wonder whether the golf played here isn't altogether different from the golf one knows. And yet, come to find out, Old Macdonald's roots are anchored deeply in golf's Scottish ancestry.
The aptly named Hell Bunker, for instance, is the adaptation of a similar hazard at the Old Course at St. Andrews; the swirling green at Old Mac's 12th, the "Redan," takes its name and likeness from a quirky old hole at North Berwick; and Old Macdonald's 16th hole has a green that's hidden from the fairway, tucked coyly behind a hill, just as the "Alps" hole at Prestwick.
On it goes, for Mike Keiser's charge to architect Tom Doak was not expressly to mimic, but rather to stand in the shoes of a man considered the father of American golf course design, an emigrated Scot who left a largely forgotten legacy of "Alps" holes, "Cape" holes, "Road" holes and the like, all drawn from his and golf's homeland. One Charles Blair Macdonald.
Having cleared the big dune at number three, my drive had come to rest on a hillside a hundred yards from the green, and from there I envisioned a putt as audacious as Old Macdonald. It would skirt a small bunker lurking off to one side, glide across a range of knobs, bumps and hollows then climb a steep ridge and arc slowly onto the green.
The ball's journey ended at the crest of the last ridge. It was a wind gust away from starting up again and rolling quietly down to the hole.
Bandon's courses
BANDON DUNES (Architect: David McLay Kidd. 6732 yards. Par 72) Bandon's inaugural course skirts the edge of towering ocean-side cliffs.
PACIFIC DUNES (Architect: Tom Doak. 6633 yards. Par 71) Neo-traditionalist Doak threaded the course through rugged, sandy bluffs and artfully stitched it all together.
BANDON TRAILS (Architects: Bill Coore and Ben Crenshaw. 6765 yards. Par 71) A romp through an enchanting Oregon forest. Golf meets Tolkien here.
OLD MACDONALD (Architects: Tom Doak, Jim Urbina. 6944 yards. Par 71) Bandon's newest is a white-knuckled ride of a golf links, recently ranked Golfweek's best new course in America
FOLLOW THIS TOPIC