Gas prices edge up with higher crude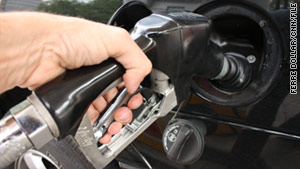 The average price of self-serve regular gasoline in the United States rose to $3.13 a gallon, a national survey says.
STORY HIGHLIGHTS
The average U.S. gasoline price is now $3.13 per gallon
Analyst Trilby Lundberg says gas prices are closely tracking crude
Current prices are about 46 cents a gallon higher than a year ago
(CNN) -- U.S. gasoline prices inched up less than 2 cents per gallon over the past two weeks as crude oil prices held steady, according to a new national survey.
The average price of self-serve regular edged up 1.49 cents to just under $3.13 a gallon, according to Trilby Lundberg, publisher of the Lundberg Survey of about 2,500 filling stations. With demand still weak and a glut of refined fuel on the market, the prices at the pump are closely tracking the price of the crude oil that is gasoline's major component, she said.
"The continued oversupply of gasoline and continued weak demand growth of gasoline both are expected to continue for some time," Lundberg said.
Gas prices have gone up about 44 cents per gallon over the past 19 weeks and are about 46 cents higher than in early February 2010, she said. The price of crude oil has gone up nearly 20 percent over the past year, she said.

Egypt: The Suez Canal and oil prices
The highest average prices in the continental United States were found in San Francisco, at $3.41 per gallon, the survey found. The lowest were in Memphis, Tennessee, at $2.90.
Average per-gallon prices in other cities:
Atlanta: $3.04
Boston: $3.20
Houston: $2.93
Indianapolis: $3.13
Los Angeles: $3.36
St. Louis: $2.98
Salt Lake City: $2.93
Philadelphia: $3.18
Portland, Oregon: $3.21
FOLLOW THIS TOPIC