Antarctica cruise cut short after ship hits rock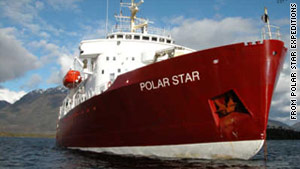 The MV Polar Star had 80 passengers and 35 crew on board when it struck an uncharted rock.
STORY HIGHLIGHTS
Eighty travelers are trying to get back to Argentina after a cruise ship mishap in Antarctica
MV Polar Star suffered a "minor breach of the outer hull" when it hit a rock
Passengers have been dropped off in the South Shetland Islands as a precautionary measure
(CNN) -- It's an adventure the passengers on an Antarctic cruise hadn't bargained for when they signed up for a voyage to the icy continent.
Eighty travelers, including 32 Americans, are trying to get back to the southern tip of Argentina after their ship -- the MV Polar Star -- struck an uncharted rock while anchoring near Detaille Island at the Antarctic Peninsula on Monday.
No one was hurt in the accident, which led to a "minor breach of the outer hull," according to the International Association of Antarctica Tour Operators. The ship was later able to travel "uneventfully and at normal cruising speed."
Polar Star Expeditions -- a Halifax, Nova Scotia, company that operates the vessel -- at first expected the MV Polar Star to return to Ushuaia, Argentina, with everyone aboard.
But on Wednesday, it decided to drop the passengers off in the South Shetland Islands before crossing the Drake Passage as a precautionary measure.
"The company is currently arranging alternative transportation for its passengers," the Antarctic tours association said in a statement.
The MV Polar Star is expected to head back to Ushuaia with its crew of 35 after divers inspect the damage and workers make "temporary repairs" to the ship.
The next Antarctica cruise on board the vessel, which was scheduled to begin Sunday, has been canceled. On its website, Polar Star Expeditions touts the voyage as "a life-changing experience into a new world that can never be forgotten."
Indeed, travelers who have visited the region have remarked about its otherworldly, pristine beauty.
About 40 ships now take tourists to the Antarctic Peninsula region, according to the Antarctic tours association, but this is just the latest incident to show that it's not always smooth sailing.
In December, a large wave crashed into the MV Clelia II, leaving the ship with electrical malfunctions in rough weather.
FOLLOW THIS TOPIC