STORY HIGHLIGHTS
Miami is famed for its sunny weather, savoir faire and uber-cool 'gold coast' style
Its mix of business and pleasure has fostered flamboyant yachting culture
Coconut Grove, Biscayne Bay and South Beach recommended as top destination for sailors
(CNN) -- Part all-American, part Cuban, part Alice in Wonderland. The Miami area is a psychedelic mix of serious business and eccentric pleasures.
Candy-colored Art Deco hotels sit against a backdrop of ultra-modern glass towers; ramshackle rickshaws ride alongside tinted BMWs; and flamboyant street artists ply their wares to cool corporate suits in what has become one of the wealthiest, and sexiest, cities in the world.
Of course, where there's money, sun, and long, long stretches of coast, the superyachts aren't far behind -- and Miami is no exception. As sprawling metropolises go, the city is exceptionally well suited to sailors.
The Miami skyline, as you'd expect, provides the ultimate setting: "The sort of glittering collection of high-rise buildings and super hotels that helped inspire a certain kind of boater to take to the water back in the 1980s," says Lonely Planet travel writer Adam Karlin.
Sailboats have become an established part of the scenery in Miami, and the largest city in South Florida offers access to dozens of marinas and thousands of berths. So where to begin?

Coconut Grove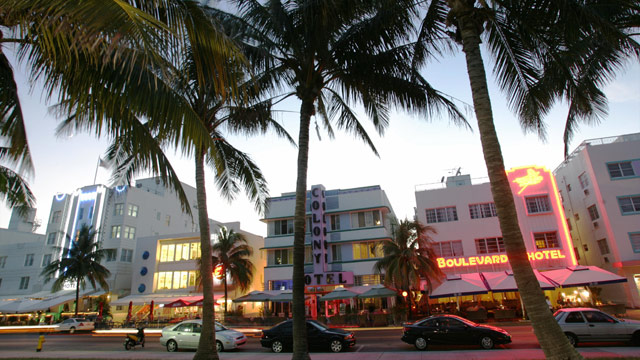 Gallery: Miami: What to see and do
"Sailing hot spots tend to concentrate around Coconut Grove, a pleasant, middle-class-residential neighborhood that abuts yuppie chic Coral Gables," explains Karlin.
A charming walking village with tree- lined streets that lead down to one of the world's most beautiful sailing bays, Coconut Grove is home to the Miami Yacht Club.
"It has a huge harbor and is within easy walking distance to tourist attractions," enthuses Curtis Tucker, from Sail Miami.
"It's also home to the Barnacle Historic State Park, which was built in the late 1800s by yacht designer and Renaissance man Commodore Ralph Munroe," he adds.
Biscayne Bay
You'll find everybody there from your $3 million yacht to your little dinghy.
--Curtis Tucker
A short sail down the golden coast takes you to Biscayne Bay, which extends to the Florida Keys and is "a sailing paradise in its own right," says Karlin. "The waters here offer some of the best fishing in the USA, in almost any category you can think of."
If you dock near Biscayne, Jimbo's is a must-stop. According to Karlin, expect a "surreal collection of fishing shacks, bocce courts and beer bottles, a sort of bait shop/bar/smoked fish restaurant that attracts rednecks, yachters, fishermen and assorted loonies."
Still in Biscayne, sail past the Vizcaya Museum to marvel at its audacious architecture. Says Tucker: "It's fashioned like an Italian castle, and by boat you can pull in and anchor there. It's a sight to see."
Florida Keys
The Florida Keys is a day's sail from the party hub of Miami but in atmosphere feels like a million miles away.
"You'll find everybody there from your $3 million yacht to your little dinghy," says Tucker.
He recommends sailing up to one of the designated moorings at various reefs in the area. You can park your yacht and dive straight into the water to explore what's beneath.
"The fishing and diving is some of the best in the world," according to Tucker. But the area is national parkland, and those keen to drop a line in will have to be mindful of fishing restrictions.
Before you make your way back to Miami, pop into Alabama Jacks, at the base of Card Sound Bridge, for some seafood. "It's well known by yachties but it's kind of a secret place. It's stayed just as it is for decades," says Tucker.
South Beach
The South Beach area, situated in Miami Beach and known locally as SoBe, is a particularly vibrant neighborhood. The region is brimming with up-and-coming art galleries, stylish diners, gold beaches and, needless to say, more celebrity-packed nightclubs than you could shake a camera phone at.
South Beach's Art Deco district is packed with more than 800 buildings constructed during the Roaring '20s. The sleek lines, stepped forms and sweeping curves of this style left a huge imprint on architecture around the world.
For food, stop in at Joe's Stone Crab, "a Miami institution since 1913, which makes it not much younger than the city itself," says Karlin from the Lonely Planet. Open only during crab season, "it's worth lining up for the jumbo claws with mustard dipping sauce," he says.
As the sun sets behind the skyscrapers, take a trip to Little Havana, the Latin heart of Miami, where Spanish is spoken more than English and the rhythms of salsa and hip-hop pulse from windows throughout the night. Go for a Cuban sandwich at Enriqueta's Sandwich Shop and settle in to watch the old-timers playing dominoes on the street.
Emily Smith contributed to this report.
FOLLOW THIS TOPIC