STORY HIGHLIGHTS
There are two types of travelers -- those who like cruises, and those who hate them
"It reminded me of a prison," one passenger says of his first and only cruise
Cruising is great, counters a passenger who has been on 29 voyages
Industry remains plagued with misconceptions from its early years, expert says
(CNN) -- Lots of travelers and television ads will tell you there's nothing more fun than a vacation at sea, but John Coryat's first cruise was also his last.
In 1995, he paid $3,000 for a seven-day Caribbean voyage -- a trip his travel agent touted as the vacation of a lifetime -- but found his cabin uncomfortably tiny, the food disappointingly substandard and the tight schedules of the ship extremely frustrating.
"It reminded me of a prison. I had a little cell, they herded me out (and said), 'OK, you go play, stand in line and do this, stand in line and do that, now go eat, come back,' " said Coryat, 53, a software engineer who lives in Olive Branch, Mississippi.
Masses of bored passengers meant there were long wait times for every on-board amenity, the nightly entertainment was "tired" and there was little time to explore the destinations, Coryat said. To make things worse, he ended up with food poisoning.
He doesn't plan on taking another cruise.
"I can see how cruises can be fun, and I know a lot of people who have gone on them and enjoyed them, and these are people who like to be told what to do, when to do it; they don't really have a lot of ideas of their own," he said.
John Coryat, meet Justin Sgobbo.
At 30, Sgobbo has been on 29 cruises, sailing to destinations all over the world, including Bermuda and Europe.
He enjoys the food, likes the variety of activities on board and finds cruising much more fun than staying at a "monotonous" all-inclusive resort. His next cruise, to Alaska, is coming up this summer.
"I love ships," said Sgobbo, a teacher in Scarsdale, New York. "I like being on the sea, I like the inclusiveness of the ship -- everything being there and not having to have to pack and unpack in different cities."
Another record year in passenger growth predicted
Call it the great cruise divide. Each year during "Wave Season" -- the time period from January to March when cruise lines offer their best deals -- lots of people will be tempted to book a voyage, while no amount of incentives will convince others to set foot on board.
Cruises tend to be smeared by the 'real' travel community as floating malls.
--Robert Reid, Lonely Planet
As Robert Reid, the U.S. travel editor for Lonely Planet, puts it: There are two types of travelers -- those who like cruises, and those who hate them.
"Cruises tend to be smeared by the 'real' travel community as floating malls, Vegas on water, with structured camplike activities, dodgy food and, as writer David Foster Wallace called it, '1,500 professional smiles' from people 'who clearly dislike you,' " Reid wrote in a commentary for CNN.com last fall.
"But by all indications, people do have fun on cruises, and they are a committed lot."
Not only that, their numbers have been growing over the last few decades.

Inside the new Disney cruiseliner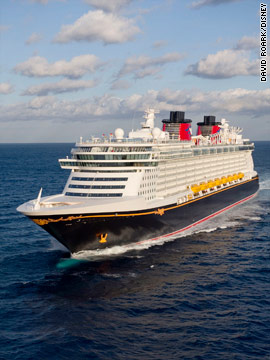 Gallery: Disney Dream cruise
About 15 million people went on a cruise last year compared with just 500,000 in 1970, according to the Cruise Lines International Association, which represents 25 of the major cruise lines serving North America. The group predicts another record year in passenger growth in 2011.
Cruise enthusiasts will say: What's not to love about a vacation at sea that takes you to exotic places and can be as relaxing or active as you want it to be?
But many people might agree with the commentator who posted a colorful YouTube video after a fire on the Carnival Splendor left thousands of passengers without air conditioning, hot showers or refrigeration last fall.
"I know people who love cruises... (but) I just don't get it," Michael Lebron vents in the video called "I hate cruises. I'd rather suck a hospital mop."
Fighting misconceptions
Carolyn Spencer Brown has heard it all as editor-in-chief of CruiseCritic.com, a website that's home to popular message boards where members discuss cruise experiences and issues.
Cruising has really evolved and revolutionized and become much more young.
--Carolyn Spencer Brown, CruiseCritic.com
These days, there is a cruise out there that will suit almost everyone, Brown said, but the industry is still plagued with misconceptions from its early years.
"It was the old adage that people who cruise were either nearly dead or newly wed. So you either went for your honeymoon or you went when you were just not able to get around anymore," Brown said.
"What we've seen in the last 15 years has been that cruising has really evolved and revolutionized and become much more young and spirited and recreationally oriented."
Brown, who has been on so many cruises that she stopped counting at 150, said most people who are leery of cruising would likely change their minds after trying one for the first time on a modern ship.
Many travelers may be intimidated because "you can't just kind of wander into a lobby and check it out, have a drink" and leave -- you have to commit to a trip, Brown said.
Many of the arguments critics use against cruising are clichés, she added.
While traditional cruise lines with strict dining and activity times still exist, many others are much more relaxed and would appeal to travelers such as Coryat who don't want their time on board to be scripted, she said.
You also don't have to be part of a crowd all the time -- introverts can sit in a corner and read a book, Brown said, admitting that's what she prefers to do instead of going to parties or dining with 45 people while on board.
People who complain that there isn't enough time to explore the destinations during their voyage should look at cruises as a good way to sample places and decide where they'd like to go back for a longer trip, Brown said. That's exactly what Sgobbo did after taking a cruise in Europe.
Still, Coryat is unconvinced. "Cruising is not for me," he said, put off by his first experience.
So love it or hate it, cruising is big, but the cruise divide goes on.
FOLLOW THIS TOPIC