Travelers stuck in Chile as strike continues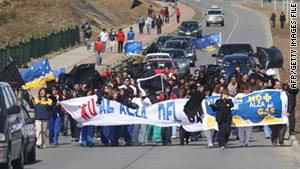 Demonstrators against fuel hikes earlier this month in Punta Arenas, Chile.
STORY HIGHLIGHTS
Thousands blocked from airport after striking workers cut off a main access road
The demonstrations erupted last week when Chile announced a plan to increase fuel prices
Interior Minister said the government will take legal action
(CNN) -- Thousands of travelers remain stuck in southern Chile after striking workers, frustrated with rising fuel prices, set up roadblocks in front of a major airport access road, according to CNN Chile reporter Nicolas Paut in Punta Arenas, Chile.
The strikes and demonstrations erupted last week after the Andean nation announced a plan to increase fuel prices in the region by nearly 17 percent, he said.
The price hike is due to take effect on February 1.
Some 50 workers, including taxi drivers and truck drivers, are using their cars and trucks to block access to the southern Chilean airport in protest, said city hotel worker Teo Miceis.
"I can still hear the demonstrators," Miceis said, who works in downtown Punta Arenas.
The airport in Punta Arenas remains open, said airport spokeswoman Andrea Bahamonde, though travelers trying to leave the country continue to face difficulties reaching it.
Crowds gathered in the city's main plaza as television images showed residents waving flags and others honking their car horns.
Interior Minister Rodrigo Hinzpeter said the government has decided to take legal action using what he described as an internal security law.
The country is still reeling from a massive earthquake last year that buckled roads, collapsed buildings and bridges, and left parts of Concepcion, Chile's second most populous city, without power for weeks.