Online travel site Expedia removes American Airlines flights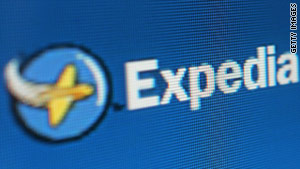 American said it did not expect significant impact from the Expedia action.
STORY HIGHLIGHTS
American removed its fares from Orbitz.com last month
Expedia says American's new pricing model is "anti-choice"
The airline says travelers can use other websites or the American site
(CNN) -- The online travel site Expedia has removed American Airlines fares and schedules, the latest move in an ongoing legal squabble between travel websites and airlines.
"Expedia, after more than a week of discriminating against American's fares and schedules by omitting them from its top search displays ... has removed American's fares and schedules from Expedia.com, effective January 1, 2011," the airline said in a statement Saturday.
American's fares and schedules remain on Egencia, Expedia's corporate travel site, the statement said. Customers looking to compare flights online can visit other travel sites such as kayak.com, priceline.com or travel agencies, it said, as well as American's own website, aa.com.
The airline has seen a year-over-year increase in ticket sales since removing its schedules and airfares from the travel site Orbitz.com on December 21, and since Expedia "began discriminating against American's flights and schedules" two days later, a practice the airline said was "deceptive to consumers looking for competitive choices for travel." The ticket sales have shifted to other channels, the airline said.
Expedia said in a statement it had been unable to reach an agreement with American "due to American Airlines' new commercial strategy that we believe is anti-consumer and anti-choice."
The airline, it said, "is attempting to introduce a new direct connect model that will result in higher costs and reduced transparency for consumers, making it difficult to compare American Airlines ticket prices and options with offerings by other airlines."
As a result, Expedia has suspended the sale of American flights on its site, the statement said. "We remain open to doing business with American Airlines on terms that are satisfactory to Expedia and do not compromise our ability to provide consumers with the products and services they need. ... We cannot support efforts that we believe are fundamentally bad for travelers."
American said it did not expect significant impact from the Expedia action. Tickets for air travel on American purchased on Expedia remain valid, the airline said.
"Our direct connections offers a path to a new era of buying and selling travel services," Derek DeCross, American's vice president and general sales manager, said in a December 29 statement. Previously, airlines have offered "different flavors" of airfares, he said. "... Our direct connection will help travel agencies help their own customers by giving them access to customized choices and delivering the best value to travelers.
"We do not envision a future in which we only sell to our customers through our own branded website," DeCross said. "Our goal is to have broad distribution channels and choices for our customers, with our products and services delivered efficiently and without unnecessary costs flowing through the process."
Last month, Delta Air Lines also notified three online travel sites -- cheapoair.com, onetravel.com and bookit.com -- that it had terminated them as authorized travel agents, according to Bloomberg News.