Tech Check: Jobs steps down, Facebook privacy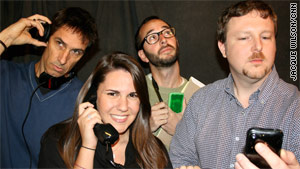 Tech Check: Doug Gross, John Sutter and Stephanie Goldberg discuss Steve Jobs' resignation from Apple.
STORY HIGHLIGHTS
Tech Check is CNN.com's weekly technology podcast

This week, we discuss Apple CEO Steve Jobs' resignation, Facebook privacy changes
(CNN) -- This week on the Tech Check podcast, Doug Gross, John Sutter and Stephanie Goldberg discuss the week's biggest tech story ... OK, the biggest tech-industry news in a while ... the resignation of Steve Jobs.
Jobs stepped down as Apple's CEO on Wednesday, leaving questions about everything from the status of his health to the future of the consumer-electronics empire he founded and steered to success.
Also, we look at new changes made to Facebook's privacy settings. Lots of tech analysts felt that the changes, which include giving users the ability to choose which friends see each post, looked suspiciously like upstart competitor Google+.
We discuss those similarities, as well as Facebook's longstanding dance with privacy vs. sharing.
Our Reader Comments of the Week come from our stories about Jobs. And the always heart-rending Tech Fail of the Week calls out a group of folks who usually can't lose in the tech world, but got our attention with a "news release" that came dangerously close to parody.
To listen, click on the audio box to the left. To subscribe, you can add Tech Check to your RSS feed here or subscribe or listen on iTunes.