Tech Check: Black Hat hackers, more stuff in your Facebook feed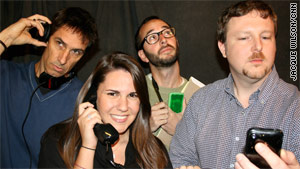 Tech Check: Podcast breaks down the Black Hat conference and possible Facebook changes.
STORY HIGHLIGHTS
Tech Check: Hacker news from Black Hat, possible Facebook changes to News Feed

Reader Comments of the Week are about Randi Zuckerberg leaving Facebook

Humble pie! We ding ourselves with the Tech Fail of the Week
(CNN) -- On this week's Tech Check podcast, Doug Gross, and Stephanie Goldberg check in with John Sutter, who's attending the Black Hat convention in Las Vegas.
The gathering of hackers and Web security experts has already produced some interesting stories this week -- from the hacker who can unlock cars with a smartphone to the former CIA expert who says a "code war" may be coming.
We look at some changes being tested on Facebook that might start pushing even more of your friends' activities into your News Feed (including the fact that your former classmate fondly remembers eating burgers at that funky downtown snack bar in the early '80s).
Our Reader Comments of the Week come from a story onRandi Zuckerberg, CEO Mark Zuckerberg's sister and a prominent face at Facebook for years, leaving the company.
And we serve ourselves a distasteful mouthful of our own medicine, handing ourselves the Tech Fail of the Week for being one of many news outlets that fell for an elaborate online hoax last week.
To listen, click on the audio box to the left. To subscribe, you can add Tech Check to your RSS feed here or subscribe on iTunes.