Tech Check: Brainstorming Tech, goodbye old Macbook, owling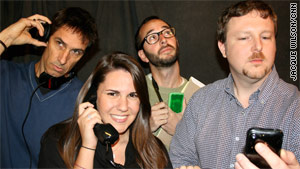 Tech Check: Brainstorming Tech, Macbook changes, owling
STORY HIGHLIGHTS
Tech Check is the weekly podcast from CNN Tech.

Writers discuss Fortune's Brainstorming Tech conference and a new era for Macbooks

The (Controversial) Tech Fail of the Week? Owling
(CNN) -- In this week's Tech Check podcast, Doug Gross, John Sutter and Stephanie Goldberg tackle some of the headlines from this week's Fortune Brainstorming Tech conference in Colorado.
At the top of the list was the surprising way Larry Summers, the former president of Harvard (and U.S. treasury secretary), described the Winklevoss twins. It was Summers who was president during the events fictionalized in the Facebook biopic "The Social Network."
Also,Google CFO Patrick Pichette gets medieval while claiming that he no longer carries a wallet. Oh yeah ... and Google offers something called Google Wallet.
Two pieces of Apple news get some chatter. On the same day, Apple unveiled its new Macbook Airs (simultaneously announcing that the classic white, plastic Macbook will soon be no more) and Lion, the new operating system for Macs.
Or reader comments of the week come from John's story on the Gates Foundation's call for new toilet technology.
And out Tech Fail of the Week causes deep rifts in the Tech Check crew. John declares the latest "ridiculous thing ending in -ing" craze -- "owling" -- to be an unmitigated failure. Doug supports the trend and Stephanie pretty much just takes the opportunity to make fun of both of them.
To listen, click on the audio box to the left. To subscribe, you can find the Tech Check RSS feed here or subscribe oniTunes.