Tech Check: Google+, violent video games, an epic Myspace fail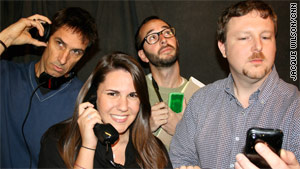 Tech Check: +1 for Google+? A look at violent video games. A Myspace fail by News Corp.
STORY HIGHLIGHTS
Tech Check: CNN.com's Doug Gross, John Sutter and Stephanie Goldberg on tech

The rollout of Google+ and a court ruling on violent video games are discussed

The Tech Fail of the Week has a Myspace page
(CNN) -- In this week's Tech Check podcast, writers Doug Gross, John Sutter and Stephanie Goldberg discuss Google's rollout of Google+.
Google swears the social-networking platform isn't meant to compete with Facebook, but features like video chat and "social circles" sure look to us like an effort to pull folks away.
We also break down some of the fallout from the U.S. Supreme Court's ruling this week that California's violent video-game law is unconstitutional. The court ruled that, while intended to protect children, the law must provide the same First Amendment protection to games as to other forms of art.
We discuss some ofthe bigger violent-game controversies and, using Stephanie's favorite game for comparison, discuss what it would take to make "Mario Kart" more like "Postal 2."
For our Reader Comments of the Week, Stephanie looks at responses on John's story about the iPhone turning four years old.
And the Tech Fail of the Week looks at the News Corp. sale of Myspace for $35 million, a little more than five years after paying $580 million for it.
(On the bright side, Stephanie gets to make a "Sexy Back" joke because of the involvement of the always dreamy Justin Timberlake).
To listen, click on the audio box to the left. To subscribe, you can find the Tech Check RSS feed here or subscribe on iTunes.