Tech Check: Google with a picture, LulzSec hackers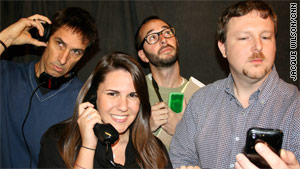 On Tech Check, Doug Gross, Stephanie Goldberg and Mark Milian talk Google, LulzSec and "Duke Nuke'em."
STORY HIGHLIGHTS
Tech Check podcast breaks down Google's new ways to search -- including a picture

The LulzSec hacker group's exploits, including attacking the CIA, are discussed

Our Tech Fail of the Week takes some shots at the long-awaited "Duke Nuke'em Forever"
(CNN) -- On this week's Tech Check podcast, writers Doug Gross, Stephanie Goldberg and Mark Milian break down Mark's visit toGoogle's Inside Search event, where they rolled out new apps that let users search by voice on their desktops and even search using a photo.
Also, we take a look at the mysterious and merry band of hackers, LulzSec, who added the CIA website to its list of high-profile hacks and attacks (and promised more were to come).
The Reader Comments of the Week come from our Netiquette column on mobile apps designed to help socially awkward people. (Or maybe those who have just had one frozen margarita too many to think of a clever pickup line).
And the Tech Fail of the Week is a double shot this week. Make that a triple shot.
We damn "Duke Nuke'em Forever," the video game that took 14 years to be released, only to flop with critics, and the PR firm that threatened to refuse future review copies of games to writers who reviewed it harshly.
And we couldn't sign off without a parting shot for Rep. Anthony Weiner, who was still maintaining that his Twitter account had been hacked the last time we talked about him.
To listen, click on the audio box to the left. To subscribe, you can find the Tech Check RSS feed here or subscribe on iTunes.