Tech Check: Microsoft-Skype, Google music, gamers vs. Gaga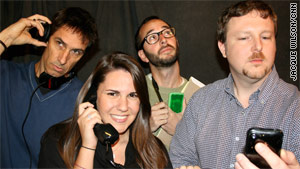 This week's Tech Check podcast checks in on Microsoft and Skype, Google ... and Lady Gaga?
STORY HIGHLIGHTS
This week's CNN Tech Check podcast covers Microsoft-Skype, Google news, Facebook

Reader comment skewering Doug's Lady Gaga-video game story gets featured

To subscribe to Tech Check, click here.
Editor's note: Tech Check is a weekly audio podcast in which CNN.com's Tech team helps break down the technology news of the week, trying to make sense of it ... and sometimes make light of it.
(CNN) -- In this week's Tech Check podcast, Doug Gross, Brandon Griggs and Mark Milian break down this week's $8.5 billion purchase of Skype by Microsoft.
What will the purchase mean for the widely popular online-chat service and which areas of Microsoft's empire could see new chat features added?
Also, the crew discusses all the news from Google I/O, the company's annual conference.
Main topics include Google's move into the music and video streaming market.
The Reader Comment of the Week comes from Doug's much-maligned suggestions on five video games that Lady Gaga could invade (a light-hearted takeoff of news that she'll be teaming up with FarmVille later this month).
And for this week's Tech Fail, we look at some supposedly secretive shenanigans by Facebook that didn't end up being so secret after all.
To listen, click on the audio box to the left. To subscribe to Tech Check, click here -- Tech Check.
To listen to more of CNN's podcasts, click here.