Tech Check: Osama and the Web, PlayStation Network, kissing machine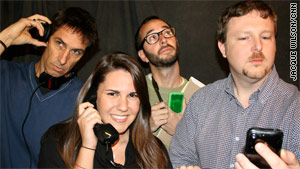 This week's Tech Check podcast takes a look at how the Web handled Osama bin Laden's death.
STORY HIGHLIGHTS
This week's CNN Tech Check podcast covers the Web's take on Osama bin Laden

PlayStation Network's outage and the return of Microsoft's "Clippy" also discussed

Tech Fail of the Week? Two words -- kissing machine
Editor's note: Tech Check is a weekly audio podcast in which CNN.com's Tech team helps break down the technology news of the week, trying to make sense of it ... and sometimes make light of it.
(CNN) -- In this week's Tech Check podcast, Doug Gross, Brandon Griggs and Mark Milian break down how the internet, particularly Twitter, responded to news of the killing of Osama bin Laden.
They also discuss important updates in the continuing Sony PlayStation Network hack (and outage).
As Sony announced that the security breach seems to have been more extensive than they first thought, Anonymous, the hacker collective that sprang out of the Wikileaks controversy, denied any involvement in the attack.
This week's reader comments come from the story about"Clippy," Microsoft's annoying helper from days gone by, who is staging a comeback.
And in what can only be described as a harrowing Tech Fail of the Week, they share the intimate details about a Japanese lab's invention of an Internet kissing machine.
To listen, click on the audio box to the left. To subscribe to Tech Check, click here -- Tech Check.
To listen to more of CNN's Webby Awards-nominated podcasts, click here.