Tech Check: The PlayStation breach, iPhone news and a $23 million book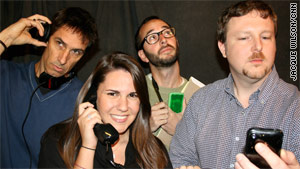 This week's Tech Check takes on the PlayStation data breach and Apple's non-apology apology for iPhone tracking.
STORY HIGHLIGHTS
This week's CNN Tech Check podcast tackles the PlayStation Network breach, iPhone news

Our Tech Fail of the Week: How a book about flies ends up costing $23 million on Amazon
Editor's note: Tech Check is a weekly audio podcast in which CNN.com's Tech team helps break down the technology news of the week, trying to make sense of it ... and sometimes make light of it.
(CNN) -- In this week's Tech Check podcast, Doug Gross, John Sutter and Stephanie Goldberg break down news about the Sony PlayStation Network's data breach -- which some are calling the biggest in online history.
They also take on two bits of iPhone news -- the long awaited debut of the white iPhone 4 and Apple's response (finally) to news that iPhones have been tracking their users' location. Safe to say, not all critics were satisfied.
Our reader comment takes issue with Mr. Sutter over his piece on whether Friday's royal wedding would crash parts of the Internet. And our Tech Fail of the Week explains how a book about flies ends up costing $23 million on Amazon.
[Also, a special Tech Check tip of the cap this week to the creators of the podcast's music, Jimmy Binder for the opening sounds and the John Benjamin Band for our closing music, "What We Need More of Is Science."]
To listen, click on the audio box to the left. To subscribe to Tech Check, click here -- Tech Check.
FOLLOW THIS TOPIC