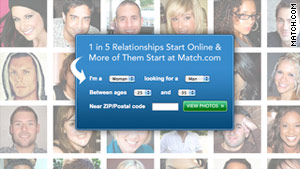 "People have to exercise common sense," Match.com president Mandy Ginsberg says.
STORY HIGHLIGHTS
A lawsuit was filed in Los Angeles County last week against online dating service Match.com
"Jane Doe" claimed failure to do a background check put her in danger
Match.com said it will check membership against National Sex Offender Registry
Website's president cautions against "false sense of security" by its members
Los Angeles (CNN) -- Match.com says it will begin cross-referencing members against the National Sex Offender Registry after a lawsuit filed last week in California, in which a woman claims she was raped by a convicted offender she met on the dating website.
Mandy Ginsberg, president of Match.com, U.S., said in a statement Sunday night that "improved technology and an improved database now enables a sufficient degree of accuracy to move forward" with an initiative it had previously discounted because of the background checks' "historical unreliability."
In a class action lawsuit filed April 13 in Los Angeles County Superior Court, the woman, identified as Jane Doe, claims she met a man named Alan Wurtzel, who according to the lawsuit has a record of "six separate convictions for sexual battery" in Los Angeles County alone.
Because it has failed "to undertake a basic screening process [emphasis provided] that disqualifies from membership anyone who has a documented history of sexual assault," the lawsuit says, "Match and sexual predators benefit, while female members ... are endangered."
The woman was quoted by ABC News as saying she was raped in 2010 during her second date with Wurtzel, whom she had met on the website. The woman, whom the network described as an "Ivy League graduate who works in film and television," said the man followed her into her residence and attacked her.

Match.com to check for sex offenders
"Never in my wildest dreams did I think I was going out with a criminal," said the woman, whose face and voice were disguised for the broadcast interview.
ABC reported that charges are pending in the case, and it quoted Wurtzel's attorney as saying that the incident was "a consensual sexual encounter."
The class action names as plaintiffs, along with "Jane Doe," all of Match.com's paying female members from August 2010 to the present.
The Los Angeles Times reported that the plaintiff's attorney has said he will ask a Los Angeles County judge to issue a temporary injunction barring Match.com from signing up more members until his client's demands for criminal screening are met.
The statement from Match.com's president cautioned that despite the background checks, the website could not guarantee "the actions of all its members."
"We want to stress that while these checks may help in certain instances, they remain highly flawed, and it is critical that this effort does not provide a false sense of security to our members," Ginsberg's statement said.
"Match.com is a fantastic service, having changed the lives of millions of people through the relationships and marriages it has given rise to, but people have to exercise common sense and prudence with people they have just met, whether through an online dating service or any other means," Ginsberg said.
In the terms of use in its online membership agreement, the website says its members are "solely responsible" for their interactions with people they meet on the site, and that the website will not be held liable for "any damages whatsoever" arising from meetings. As of Monday morning, that section still said Match.com "does not in any way screen its members, nor does Match.com inquire into the backgrounds of its members or attempt to verify the statements of its members."
Rival dating site eHarmony says it already cross-checks its users with public sex offender lists, and that this policy "has allowed us to keep many known registered sex offenders off of our service."
The company, however, says these screenings may not enough on their own. It urges users to "exercise good judgment."
"Additionally, we use industry-leading technology and have staff members dedicated to monitoring the quality and integrity of the membership pool. Our goal is to prevent people who seem intent on harming others from joining the service," eHarmony said in a statement e-mailed to CNN.
"As a matter of course, eHarmony does not conduct full criminal background checks. Registries can be incomplete or inaccurate, assaults and other crimes often go unreported, and perpetrators of crimes are not always convicted. Relying solely on screening can provide a false sense of security."
The site on Monday published a list of online dating safety tips on its blog.
CNN's John D. Sutter contributed to this report.
FOLLOW THIS TOPIC