STORY HIGHLIGHTS
Topeka changes its name to "Google, Kansas" for a month
Google still chooses a neighboring Kansas City for a high-speed internet project
Mayor jokes that he's fine with life moving slower anyway
Mayor also says Topeka might still benefit in long run by being close to Kansas City
(CNN) -- What more could a city do?
In an effort to woo a Google high-speed internet project, the Kansas capital of Topeka last year changed its name to Google, Kansas, for a month.
Like, actually changed it. By a vote of the City Council.
Apparently that wasn't enough. The search giant on Wednesday announced it had chosen Topeka's blandly named neighbor -- Kansas City, Kansas -- as the winner of its contest. That city, just 60 miles to the east of Topeka, soon will get some of the fastest internet connections in the country.
Topeka's mayor could be mad about all of this.
He could be embarrassed that his city -- home of soybean fields, animal research, and, let's not forget, Kansas' capitol dome -- changed its name to that of a giant corporation to court its favor, only to be rejected.
Maybe he feels like he'll lose business to Kansas City, which, by 2012, is expected to have Google-installed internet connections that are 100 times faster than the national average.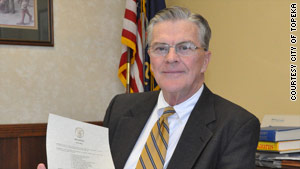 Bill Bunten is the mayor of Topeka, Kansas.
Or maybe not. As it turns out, he's really not that upset.
"I've often wondered what difference does it make if it takes you 10 seconds or one second to access information," Topeka's colorful mayor, Bill Bunten, said by phone on Wednesday. "My life goes a little slower than that."
Asked whether he planned to go to Kansas City -- which, by his estimation, is only a 50-minute drive away "if you break a couple of laws" -- to try out the new high-speed internet connection, Bunten said "I doubt it."
"I might go over there and see if I can find a store that sells Googles," he said, joking that the online company doesn't do retail.
Bunten is a self-described technophobe who says he uses the internet to read his e-mail -- and that's about it. He still prefers the telephone.

Apple, Google & Facebook: Oh My!

Google picks 1st 'fiber community'
"I'm not completely computer illiterate, but close," he said. "My son works at Washburn University and he's really good and my wife is on the computer all the time, but I'm so old that I still like to talk on the telephone, believe it or not."
He never assumed Topeka's name-changing stunt would win the project. And plenty of other mayors flailed unsuccessfully for Google's attention, too. A mayor in Florida swam with sharks. One in Minnesota jumped in a frigid lake.
"I'm a practical man. I thought we would just love to have been chosen, but I don't think 'disappointed' is the word. We're happy that it's coming to Kansas and we're close enough to Kansas City that, if they expand, why, the possibility that we could be involved in that would probably be enhanced," he said.
A Google spokesman thanked Topeka for its interest.
"These communities sent a clear message: people are hungry for better and faster Internet access," Dan Martin wrote in an e-mail to CNN.
"This was a tough decision and we want everyone to know we carefully considered every application. We'll be looking closely at ways to bring ultra high-speeds to other cities across the country."
Bunten said he doesn't have any regrets about renaming the city as an attempt to get Google's attention. He had a little fun with it.
The move was also good PR for the city, he said. On April Fools' Day 2010, Google joked that it had changed its name to Topeka as a sort of hat tip.
"We usually have about 4,000 hits per week on our websites; we had over 200,000 on that day," Bunten said.
"We got a lot of attention," he added. "Not that we need it. We're a great city. We're the capital of Kansas!"
FOLLOW THIS TOPIC