STORY HIGHLIGHTS
LG's Thrill 4G is one of the first 3-D smartphones, available exclusively for AT&T

Sprint released HTC's Evo 3D in June

Handheld 3-D devices have yet to catch on, perhaps because of a lack of content
(CNN) -- Someone with a standard smartphone might look with envy at the emerging breed of 3-D handsets with displays that don't require special glasses.
However, the grass isn't always greener in three dimensions. It's just slightly fuzzier and sort of pops out of the screen at times.
For the last few weeks, I've been testing LG's Thrill 4G, one of the first phones with a 3-D screen. It's set to debut in stores on Sunday, and AT&T will exclusively sell the device for $99 with a two-year service contract, or $450 without.
The Thrill runs a year-old version of Google's Android operating system with add-on applications from AT&T and LG. The one I checked out immediately is called 3D Space, the playpen for the device's unique aspects.
Flicking through the onscreen wheel reveals the various specialized 3-D apps, including games, a separate YouTube section and preloaded video clips. The rest of the apps are displayed in boring old 2-D. So much for the dream of seeing my e-mail inbox in the third dimension.
Gadget Review: LG Thrill 4G phone

Features: 3-D display that doesn't require special glasses; dual cameras; 16G of memory; phone acts as mobile hotspot; runs on AT&T's network

Price: $99 with two-year contract

Our Verdict: Smartphone lovers can find better phones elsewhere, and gamers who love 3-D will be better served by Nintendo's handheld system
The Thrill comes packaged with a racing, a shooting and a golf game, each made by Gameloft, as well as an interactive Gulliver's Travels e-book. The latter is a visually stunning demo of the phone's capabilities but light on story. The other games don't particularly benefit from the 3-D effects.
There doesn't appear to be a way to download more games or apps that take advantage of the 3-D feature. Developers don't seem particularly eager to code their graphics in 3-D in order to feed the few Android devices on the market that support the capability.
Sprint Nextel released a similar product from HTC called the Evo 3D in June. It costs twice as much as the Thrill but runs a slightly newer version of Android and runs on Sprint's faster 4G network. The Thrill, despite having 4G in its name, doesn't work on the top-of-the-line 4G network AT&T launched recently.
The YouTube 3-D app on both platforms is sparse, with a handful of home movies.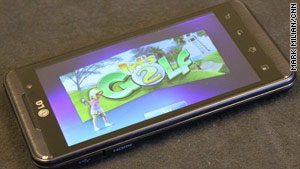 The Thrill comes with three games that can be played in 3-D, along with an interactive book.
The 3-D effect on the HTC phone seems less pronounced than on the Thrill. The Evo 3D has a fun Spider-Man game, also made by Gameloft, that the Thrill doesn't have. And the Evo comes with the "Green Lantern" movie in 3-D, while the Thrill doesn't appear to offer any full-length films.
In terms of display quality, Nintendo's 3DS handily beats the two phones and is better suited for gamers, thanks to its much larger catalog. But a recent price cut and humbling statements from executives indicates that most people aren't sold on having a portable 3-D system. Indeed, the novelty can wear off pretty quickly.
The most appealing aspect of having a 3-D device, especially when there are so few worthwhile things to see, is the ability to snap pictures and videos that add an extra dimension.
The Thrill has two cameras on the back to capture stereoscopic images, and they look great on the big 4.3-inch hand-held screen. A feature for converting 2-D pictures to 3-D and vice versa doesn't work very well. Pulling another dimension out of thin air, it turns out, isn't an easy task, even for mini computers.
The phone has a port for plugging in an HDMI cable to a TV for viewing recordings on the big screen, but like most people, I don't own a 3-D TV to watch them on.
As a phone, the Thrill works well -- or as well as one can expect on AT&T in San Francisco, where service is notoriously spotty.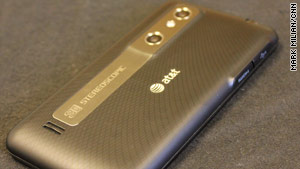 The Thrill can shoot attractive 3-D videos and photos.
But 3-D features aside, the Thrill lags when compared to other Android phones. Literally. There's a noticeable split-second delay, sometimes longer, every time I wake the phone from its slumber.
All that waiting doesn't help the battery life, either. A full charge doesn't even last an entire day with moderate usage.
The Thrill unit I tested went limp on my third day using it and was unresponsive when plugged into a charger. After removing the battery and putting it back in, the phone came back to life, and I haven't had that problem since. It's a good thing I was able to access the battery, unlike with most Apple products.
Because the Thrill runs outdated software, it lacks some of the enhancements of the newer Android phones, such as a better keyboard and copy-paste functions. LG has apparently tried to make up for that with some makeovers of its own, but perhaps the company should enlist the eye of a better interior director.
Smartphone lovers can find better phones elsewhere, and gamers thrilled about the idea of 3-D would be better served by Nintendo's system. But proud parents who believe a 2-D camera won't do justice to their kid's first steps may want to give the Thrill a closer look.
FOLLOW THIS TOPIC