STORY HIGHLIGHTS
Hollaback! began as a 2005 blog project among a group of friends living in New York
The app allows victims of street harassment to share their experiences and send pictures
The problem is particularly prevalent in New York City's subway systems
(CNN) -- By now, everybody knows that mobile technology has transformed the way we share information.
Now a digital network called Hollaback! is using the latest tech to change the way victims and witnesses react to sexual harassment.
Hollaback!, which launched as an app and website where victims of sexual abuse could report incidents, plans to launch a new app in March 2012 that will let bystanders report cases of sexual harassment as well.
The new network will be called "I've Got Your Back," and the group is currently raising money for the project through the crowd-funding site IndieGoGo.
They plan to launch Android and iPhone apps, as well as an online map that aggregates reports from people who witness harassment.
The campaign was motivated out of a desire to "map something happy," said Emily May, co-founder and executive director of Hollaback!.
"What 'happy' happens in the world of street harassment? What about when people intervene?" May told CNN.
Hollaback!'s previous efforts have focused on getting victims of sexual abuse to report crimes online.
The group began in 2005 as a blog run by a group of friends living in New York. Each member had come into contact with behavior on the streets of New York that made them feel victimized, and reporting harassment to the police didn't seem to help, they said.
The blog re-launched on the global platform iHollaback.org in September of 2010 and smartphone apps debuted in November. By allowing victims of street harassment to share their experiences, and even send pictures, the campaign quickly caught on internationally. Hollaback! now has blogs in 24 cities around the world, with 30 more set to launch in August.
The website's aim is not to prosecute offenders.
"We don't advocate for fear mongering. We want to address the problem head on but in a way that is empowering," said Oraia Reid, co-founder of Hollaback!.
The site's homepage displays a world map showing the different locations where individuals have experienced harassment. Visitors to the site can read about victims' experiences anywhere from New York City to Nigeria to China.
The founders see the mapping system as an effective way of reaching not just regular citizens, but also lawmakers who may be unaware of harassment in their communities. It also helps victims of street harassment realize that "the experience of street harassment is universal," said May.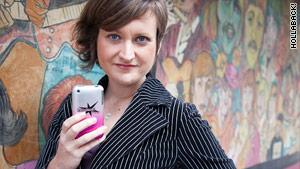 Emily May, co-founder and executive director of Hollaback.
"We're making change the same way it has always has happened --by telling stories," she said. "We just have more tools to tell our stories now."
May told CNN that mobile technology has allowed the site to tap into a global community of activists. "Being able to tell those stories and visualize those stories in different ways has served as a catalyst," she said.
Many of these activists are young people searching for a way to be heard. May said 74% of the site's users are 29 or younger, 44% identify as gay, lesbian or transgendered and 26% identify as racial minorities, she said.
Nicola Briggs' story illustrates the power that technology has to call attention to issues like sexual harassment. Briggs became a YouTube sensation when a video of her confronting a sexual predator on the subway went viral.
During rush hour on a downtown train in Manhattan last September, Briggs felt a pressure on her back. When she tried to move away she still felt it. When she turned around she says she realized that a man behind her had been pressing his exposed genitals against her back..
There are about 600 complaints of sex offenses in the New York subway system per year, according to the New York Police Department.
James P. Hall, Chief of the Transit Bureau for the NYPD, said many of the crimes likely go unreported. Sexual harassment is the No. 1 quality of life concern in the subway in New York, he said.
Briggs, at 5-feet tall and with 17 years of self-defense training, said that it took her no time to react.
"I announced it to the entire train," she said. "He had special pants with no zipper. Everyone stopped talking on the train and then women starting screaming. Men started shouting."
Briggs told men in the train to guard the doors and she kept yelling at the man until transit police officers arrived and handcuffed him. She told CNN that one man threatened to punch the perpetrator in the face if he tried to escape.
The man harassing Briggs was sentenced to four months in jail. An illegal immigrant, he was deported to Mexico in February, according to officials.
In Briggs' case the role of the bystanders was essential, she said.
"When someone is in need you have to step up and put aside your own needs," she told CNN.
Hollaback! contacted Briggs after the video became public and she now regularly posts on the website about her experiences and feelings on street harassment.
"You have to be willing to call up your reserves and say, 'Can someone help me?' This shouldn't happen to me or anyone else," said Briggs. "It will go away. It's only when you feel shameful that he wins. He silenced you in that moment, he silenced you later."
But Briggs sees Hollaback! as a way to break this silence.
"With Hollaback! you see what you say can totally turn it around."
FOLLOW THIS TOPIC