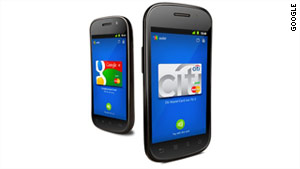 Google Wallet will be available for Sprint customers with newer Android smartphones.
STORY HIGHLIGHTS
Google Wallet lets you pay at stores by tapping a phone against a register terminal
MasterCard says the underlying technology is the same as what's used in plastic
Google will be the first of many entrants in the race to digitize the wallet
San Francisco (CNN) -- Google wants to replace your wallet with a phone. The underlying technology isn't actually that different from a credit card, but just make sure to keep the battery charged.
The Internet giant announced a new service for Android smartphones called Google Wallet at a news conference in New York on Thursday. It can integrate credit or debit cards, loyalty cards, gift cards and other passes into a single application.
Similar to how many credit cards have wireless chips built into them for tap-and-pay, people with newer Android phones from Sprint Nextel will be able to do the same at the 311,000 stores worldwide that have installed MasterCard terminals. It uses near-field-communications (NFC) chips built into the phones or added to older Androids with a special sticker.
Security has been a top concern among people MasterCard has surveyed about mobile-payment services. If you trust Visa or MasterCard with plastic payments, this will be no different, according to Mung-Ki Woo, the head of mobile for MasterCard Worldwide.
"It's basically the same technology as credit cards," Woo said in an interview here on Thursday. "It's not better or worse."
With fraud and privacy controls meeting industry standards, the other concern is what happens when your phone dies? MasterCard and Google don't have a solution for that. (Maybe someone can persuade Walgreens to install chargers at checkout.)
To provide the financial and credit technology for the Wallet app, Google sought the resources of Citibank and MasterCard, respectively. Citibank customers with MasterCards will be able to hook a digital version of their cards to the Google Wallet app. Google will also offer its own prepaid card, but it requires a credit card to setup and refill.
"We believe the shopping experience has not yet been transformed by technology or by magical experiences," Stephanie Tilenius, Google's vice president of commerce, said onstage.
Google Wallet has quite a few restrictions to start.
It will only be offered to people living in New York and San Francisco at first -- though the phone can be used as payment anywhere there's a MasterCard terminal. That's so the companies can concentrate advertising efforts targeting the tech-savvy early adopters there. New cities will be added by the fall, Woo said. Plans for worldwide distribution is further out, he said.
MasterCard has digital-wallet trials in place in other countries. The company partnered this month with Orange in the United Kingdom for phone payment using NFC.
Technology companies were believed to have ambitions of cutting credit-card companies out of the equation, but at least with Google, that's not the case. Research in Motion and Apple are reportedly working on NFC-enabled versions of the BlackBerry and iPhone, respectively.
Isis, a joint venture that includes AT&T Mobility, Verizon Wireless and T-Mobile USA, initially planned to do just that: act as the credit issuer. But the company has since reversed course and appears to be open to working with Visa and MasterCard. The goal now is "to control the customer experience, to make sure that payment mechanism is secure," Verizon Wireless CTO David Small said in an interview in March.
Isis probably realized all of the headaches involved with managing financial transactions and getting terminals installed in stores, said Woo, from MasterCard.
"Why go to the pains of rebuilding this existing infrastructure?" he said. "Why not build on top of the existing infrastructure?"
Square, a startup led by Twitter inventor Jack Dorsey, is also trying to rework the point-of-sale process. He unveiled a new app this week for paying at some stores by checking in using the software and saying your name to the cashier.
Tapping a phone with NFC is not "the right way to go" because there are too many middlemen, he said.
FOLLOW THIS TOPIC