BlackBerry removing DUI checkpoint apps, senators say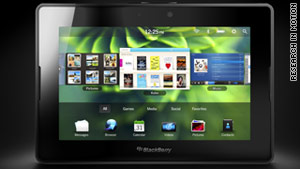 Research in Motion removed mobile-device apps that U.S. senators say were used to avoid drunken-driving checks.
STORY HIGHLIGHTS
BlackBerry maker removes mobile apps that point out drunken-driving checkpoints
U.S. senators also asked Apple, Google to remove similar "dangerous" apps
Statement from senators thanked Research in Motion, asked others to follow suit
(CNN) -- BlackBerry maker Research in Motion has agreed to pull smartphone apps that help users avoid drunken-driving checkpoints, a group of U.S. senators announced Wednesday.
In a letter Tuesday, the lawmakers had asked RIM, along with Apple and Google, to remove the mobile apps from their online stores, saying they give "drunk drivers a free tool to evade checkpoints, putting innocent families and children at risk."
The letters were from Sens. Harry Reid of Nevada, Charles Schumer of New York, Frank Lautenberg of New Jersey and Tom Udall of New Mexico. All are Democrats, and Reid is the Senate majority leader.
A joint statement from the senators did not mention whether they'd had any contact with Apple or Google.
"Drunk drivers will soon have one less tool to evade law enforcement and endanger our friends and families," the senators said in the statement. "We appreciate RIM's immediate reply and urge the other smartphone makers to quickly follow suit."
The statement does not name the apps, but describes them as GPS-based tools that let users report the locations of DUI checkpoints, speed traps and red-light cameras to each other.
The senators said one of the apps has more than 10 million users.
RIM did not release a statement on its decision to yank the apps. The release from the senators said a RIM representative "thanked the senators for bringing the issue to the company's attention and said that they would comply with the senators' request to remove the applications, likely within the day."
On Wednesday afternoon, clicking on an app called "Trapster" in the BlackBerry App World store led to an "Unknown item" message.
The app is described as a way to avoid speed traps and police cameras.
FOLLOW THIS TOPIC