Report: One-quarter of downloaded apps only get used once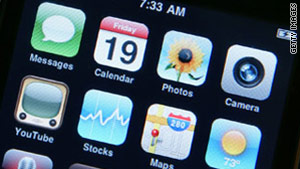 One out of every four mobile apps that are downloaded only get used once, a new study says.
STORY HIGHLIGHTS
One out of every four mobile apps only get opened one time, says a study by an analytics firm

Study spent a year looking at Apple, Android, BlackBerry and Windows apps

Company says loyalty, not just download stats, should be used to judge success
(CNN) -- OK ... so obviously not all mobile apps are Facebook, "Words With Friends" or "Angry Birds."
But apparently one out of four of them fall so far short of those addictive time-killers that users never give them a second chance.
About 26 percent of apps downloaded in 2010 were never opened by that user again, according to a study reported Tuesday by Localytics, a mobile analyst firm.
The firm says it spent a year monitoring the performance of thousands of Android, iPhone, iPad, BlackBerry and Windows Phone 7 apps.
So maybe the iFireplace and Cat Compatibility Test aren't going to create lifelong loyalty among many mobile users.
But Localytics says a 74-percent return rate (of people using an app at least once) isn't all that shabby, especially when one considers that the number of smartphone users continues to rise.
The report also suggests there's more than one way to judge an app's success.
"The big takeaway from the news for mobile app developers is that first impressions of your app matter greatly, and you should also pay more attention to the number of people who keep using your apps, instead of just looking at download statistics," wrote Devindra Hardawar of VentureBeat.
FOLLOW THIS TOPIC