STORY HIGHLIGHTS
Google's Art Project lets users explore works of art in 17 museums worldwide
Project uses Street View technology to zoom in to see individual brush strokes
Creator of project hopes it will encourage people to go to museums
It can also enrich the lives of those who aren't able to visit, he says
(CNN) -- With Google's Street View, Web surfers can pinpoint and zoom into many parts of the world -- in some places, right down to street level.
Now, Google is using its Street View technology to help us view art from a new perspective.
By capturing paintings in a super-high resolution of between 7 billion and 14 billion pixels, the internet giant lets users on its new Google Art Project website get so close, they can see the texture and intensity of single brush strokes.
The site allows users to view art from 17 museums around the world, including the Uffizi Gallery in Florence, the Museum of Modern Art in New York, and Tate Britain in London. In total, users can explore 486 artworks online -- all in greater detail than is often visible to the naked eye.
The technology, which allows people to interact with art in a new way, has created a stir within the art industry.
It's "very exciting," said Dr. Susan Foister, director of collections at the National Gallery in London, one of the museums involved in the project.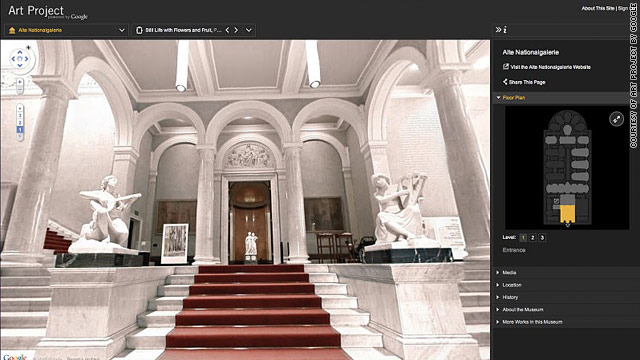 Gallery: Google Art
"The ease and speed with which you can zoom into a painting ... as if it was created in front of your eyes is something that no one has had the chance to experience before now," she said.
The Art Project is the work of a group of Google employees drawn together by their love of art. At Google, this is known as a 20% project -- engineers are encouraged to dedicate 20% of their work time to projects outside their job descriptions.
Amit Sood is the head of the project, which has now become his full-time job. He hopes the Google Art Project will entice people to visit these museums -- as well as enrich the lives of those who cannot afford to do so.
"When I was in India, growing up in Bombay, I never got a chance to go to museums, to explore these artworks," he said. "I always just read about it. I just read about Van Gogh, I couldn't actually go to the Van Gogh Museum (in the Netherlands). Now I can."
The project's features include:
• One piece of art from each of the 17 museums rendered in high definition that Google says will give site visitors a real-world quality look at it.
• A Street View feature that lets viewers take a 360-degree virtual look into selected galleries. Users can click from a view of an entire gallery to a close-up look at one of the pieces inside it.
• A "create your own collection" feature that lets users select particular views of the artwork included and assemble their own virtual galleries.
The Museum of Modern Art said in a written release that Vincent Van Gogh's "The Starry Night" was selected for the high-resolution treatment.
One of the world's most famous paintings, it will be rendered in about 7 billion pixels, "enabling the viewer to study details of the brushwork and patina beyond that possible with the naked eye," according to the museum.
New York's Frick Museum has included works by Bellini, Rembrandt, Vermeer, Ingres, Renoir and others.
"The Art Project represents an exciting synthesis of art and technology, which will enhance the ways one can access and experience masterworks in great public collections while providing individuals and educators with new tools for sharing their impressions and discoveries," said Anne L. Poulet, director of The Frick Collection.
Other museums participating are: The Altes Nationalgalerie and Gemäldegalerie, both in Berlin; The Smithsonian's Freer Gallery of Art in Washington; the Metropolitan Museum of Art in New York; Museo Reina Sofia and Museo Thyssen-Bornemisza, both in Madrid, Spain; Museum Kampa in Prague, Czech Republic; the Palace of Versailles outside Paris; Rijksmuseum and the Van Gogh Museum, both in Amsterdam, Netherlands; The State Hermitage Museum in St. Petersburg, Russia; and the State Tretyakov Gallery in Moscow.
When I was in India, growing up in Bombay, I never got a chance to go to museums, to explore these artworks.
--Amit Sood, Google Art Project
"Every year we have over 3 million people that come to the museum, but online it's around 16 million -- and that's a number that's been increasing every year," said Steve Peltzman, chief information officer of the Metropolitan Museum of Art.
That signals that more people are using the Web and that people are more digitally savvy than they've ever been, he said.
The virtual tours aren't intended to replace the experience of standing face to face with works by the old masters, but participating galleries hope the project will pique interest in art and in turn increase visitor numbers over time.
Google uses vehicles mounted with special cameras to collect Street View images of buildings and neighborhoods around the world. The mapping service sparked controversy in several countries last year when Google acknowledged its Street View cars inadvertently collected data from unsecured Wi-Fi networks, including users' e-mail addresses and passwords.
Thanks to Street View technology, visitors to the Google Art Project site can also explore the area around each museum. So after getting their art fix, people can wander around Manhattan or take in the sights of Florence.
"We hope people will use the website before, during and after their visit to MoMA," Peltzman said. "With this technology there is so much that you can't do while you're at the museum. We think this will inspire people to come to the museum."
FOLLOW THIS TOPIC